BritBox has set the North America premiere date for Stonehouse, the new biopic-historical dramedy limited series starring Matthew Macfadyen.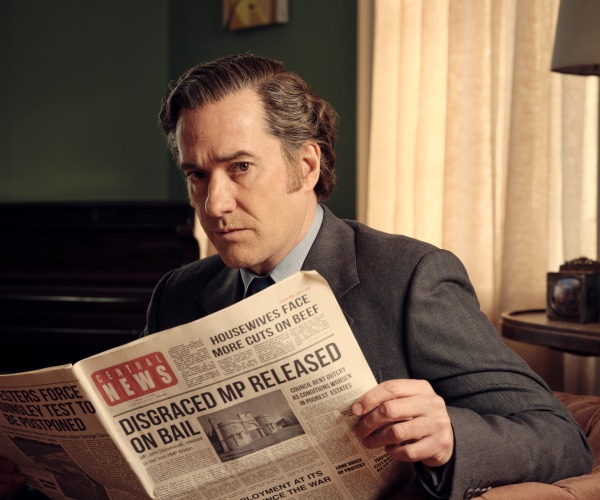 The incredible true story of disgraced Labour minister John Stonehouse is told in the three-part limited series Stonehouse. Starring as Stonehouse is BAFTA TV and Primetime Emmy® Award winner Matthew Macfadyen (Succession), with Keeley Hawes (Bodyguard) costarring as Stonehouse's wife, Barbara, and Kevin McNally (The Crown) as Prime Minister Harold Wilson.
Stonehouse, a BritBox Original, premieres in North America on Tuesday, January 17, 2023, exclusively on BritBox.
In the late 1960s, the political career of John Stonehouse is flourishing. Happily married to Barbara and the proud dad to their three children, he secures ministerial roles in Aviation and as Postmaster General under Prime Minister Harold Wilson. At the same time, though, Stonehouse is forging secret relationships with Czech spymaster Alexander Marek (Igor Grabuzov, A Good Man), with whom he trades information for money, and his new secretary, Sheila Buckley (Emer Heatley, Showtrial) (ahem).
But the 1970 election sees Stonehouse move from political golden boy to scapegoat, as Labour loses power and he is left out in the cold by Wilson, Marek, and the media. Adding salt to his wounds are rumors about fraud. Desperate times call for desperate measures, and Stonehouse is nothing if not desperate, so he hatches a plan to escape his dire circumstances: He will fake his own death.
Written by acclaimed author John Preston and directed by BAFTA nominee Jon S. Baird (Stan & Ollie, Vinyl, Filth), the drama features Dorothy Atkinson (Mum), Orla Hill (A Confession), Aoife Checkland (My Sweet Prince), and Richard Dillane (Pennyworth), amongst others, in the cast.
__________________
As an affiliate of Amazon and other cos, affiliate links on this blog allow us to earn income from qualifying actions (at no extra cost to you).

Stonehouse: BritBox Sets Premiere Date for New Biopic-Historical Dramedy