Christmas Day might be over, but for fans of Doc Martin in the US and Canada, there's one more gift to come: the series finale, which premieres tomorrow.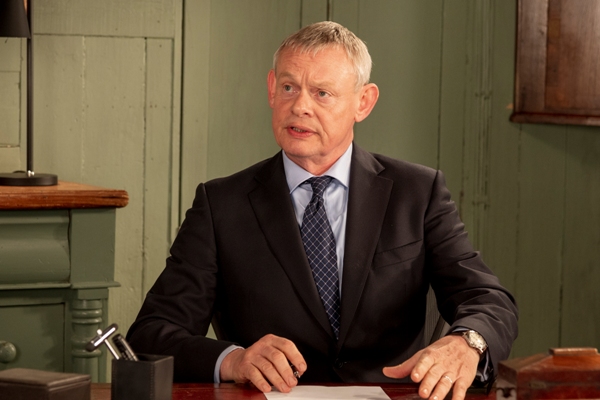 It seems hard to believe that Doc Martin is ending tomorrow, that is for viewers on this side of the pond. Not just Season 10, but the entire series. From its prequel movies, to its penultimate episode, the show has been entertaining us for well over a decade (closer to two, actually) with its delightful humor, quirky characters and warmhearted stories, spawning a fandom of millions known as Clunatics along the way.
True to form, the series finale, a charming special Christmas episode, will put a smile on your face and touch your heart; it might even bring a tear or two to your eye.
Portwenn is aglow with the Christmas spirit. The village center is decked out with a beautifully-decorated tree, and carolers treat passersby with holiday songs. And just over there, Bert is directing families to the queue for their children to visit with Santa. Except they can't, because Grinch Martin cancels Santa, concerned that the man in the red suit and white beard might have something that's contagious. Needless to say, the children are disappointed, Martin's son, James, amongst them.
Elsewhere in Portwenn, Al and Morwenna are running a turkey-themed contest, and Janice unknowingly gives a gift-giving idea to Penhale, whom Louisa asks to help coordinate a lantern parade for Christmas Eve. And Mrs. Tishell has mistletoe hanging in the pharmacy…
But all is not merry and bright. James is cross with his father, and Leonard (guest star Ron Cook), who was playing Santa, has an accident; owing to another medical situation in the village, there's no ambulance available, so Martin drives through the snow to tend to him — and has a mishap of his own, as well as a possible symptom in an unexpected form.
A surprise gift of sorts lets all of Portwenn have a holly, jolly Christmas. While Martin's heart doesn't exactly grow three sizes on Christmas Eve, he does pull his own version of a morning-after-the-night-before Scrooge.
There's more besides, altogether a fitting way to bring Doc Martin to a close — one that allows us to imagine wonderful futures for Martin (Martin Clunes), Louisa (Caroline Catz), James (Elliott Blake), Mary (Emily Daglish-Laine), Bert (Ian McNeice), Al (Joe Absolom), Morwenna (Jessica Ransom), Mrs. Tishell (Selina Cadell), Penhale (John Marquez), Janice (Robyn Addison), and Ruth (Eileen Atkins).
__________________
As an affiliate of Amazon and other cos, affiliate links on this blog allow us to earn income from qualifying actions (at no extra cost to you).

Doc Martin: Hit Series Concludes with Brilliant Christmas Episode