All good things must come to an end, and so it is with Doc Martin, the hit comedy-drama series adored by millions on both sides of the pond and beyond.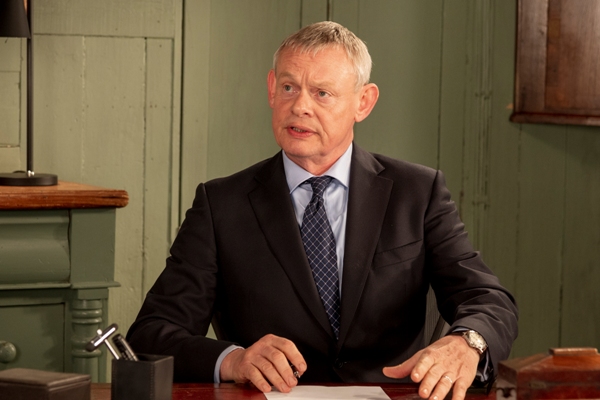 Have you ever had the experience of spending time with someone you haven't seen in a long time, someone you like a lot, and while hanging out with them you realize that you missed them much more than you thought? I have a vivid recollection of that happening several years ago when I got together with my college friend Kelly. It happened again a few days ago while I was watching the screener for the first episode of Doc Martin's tenth and final season.
There's been a three-year gap between the premieres of Season 9 and Season 10 (no thanks to covid), so being back in Portwenn, with its curmudgeonly doc, quirky residents and beautiful seaside, made me so happy that I wanted to give the show a huge hug. (Like Kelly, who got a real one.)
The more things change in the world, the more they stay the same in Portwenn. Serial entrepreneur Bert Large (Ian McNeice) is reliable for coming up with a business scheme that eventually gets him and his son, Al (Joe Absolom), in some sort of trouble. Al's caring and efficient wife, Morwenna (Jessica Ransom), can occasionally put Al in a spot of bother, too. The good-natured and well-intentioned PC Penhale (John Marquez) might puff up his role as an officer of the law, but in reality he's a big, soft-hearted chicken who still has feelings for babysitter-turned-salon owner Janice (Robyn Addison). And pharmacist Mrs. Tishell (Selina Cadell) will forever hold an unrequited torch for the doc.
Some things do change, though. And sometimes they're shockers. Take, for instance, Doc Martin (Martin Clunes) admitting he was wrong. (What?!? Yes.) It seems being married to Louisa (Caroline Catz), despite their ups and downs over the years, has influenced him in a big, new, positive way. This can also be said about his Aunt Ruth (Dame Eileen Atkins), who's been working with Martin on his blood phobia; it seems to be effective — at least for now. Oh, and Martin and Louisa have a new addition to their family! (Two, actually.)
As for the rest of the villagers, they're your average, everyday Cornwallians (well, mostly), such as recently-divorced Abigail (Fay Ripley, Cold Feet), who is concerned about her son and utterly exhausted; recently-widowed George (David Hayman, The Nest), who feels like he can't stay in his home anymore; Mrs. Tishell's friend, Irene (Lesley Nicol, Downton Abbey), who keeps the memory of her late husband alive by continuing one of their favorite pastimes; and outlier Stewart (Ben Miller, Professor T.), who enlists a couple of locals for his new survival course.
Then there are folks who come to Portwenn to see certain people (amongst other reasons), such as estranged parents, former classmates, and the like…
It's a good thing for all of them that Doc Martin gets re-licensed to practice medicine.
Doc Martin: Season 10 premieres in the US tomorrow, Monday, October 17, with the first two (of nine) episodes, exclusively on Acorn TV. New episodes will debut singly each Monday through November 28, with the series finale, a Christmas special, now premiering on Thursday, December 29.
And before the show's last-ever episode, Acorn TV will debut the documentary Doc Martin – A Celebration on Monday, December 26. This special highlights the longevity and impact, both locally and around the world, of Doc Martin over the years, and offers behind-the-scenes moments of the final season with the cast and crew.
The brilliant final season and the upcoming documentary special of Doc Martin are a must-watch for long-time and newbie fans of the series, so mark your calendars for both!
__________________
As an affiliate of Amazon and other companies, ads & affiliate links on this blog allow us to earn income from qualifying actions and purchases (at no extra cost to you).

Doc Martin: Final Season of Hit Series Is as Delightful & Entertaining as Ever