Stateside fans of Canadian police procedural Hudson & Rex, rejoice! Season 2 of the hit series has premiered early in the US!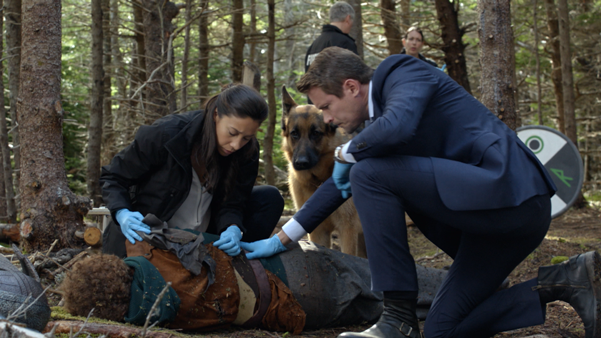 The second season of Hudson & Rex finds Detective Charlie Hudson (John Reardon, Van Helsing, Continuum) and his canine partner, Rex (Diesel vom Burgimwald), of the (fictional) St. John's Police Department's Major Crimes Unit, investigating a slew of new cases, mostly homicides.
In the season opener, "A Man of Consequence," a secret meeting goes awry and a man suffers a gunshot wound. The good news is, he isn't dead (not from a lack of desire to kill him on his attackers' part, but rather their bad aim). The bad news is, Rex sniffs out some incriminating items while Charlie is questioning the guy and his wife. It gets worse. Thanks to tech specialist Jesse Mills (Justin Kelly, Wynonna Earp, Between), Charlie learns that the man isn't who he says he is, but a criminal — one with an active warrant out on him — who's been living under an assumed identity for the past twenty years. Now his past has come back to haunt him, especially when he realizes why he's being targeted and by whom.
It's the future that folks are looking to in the second episode, "Over Ice," in which a figure skating coach is found dead in the rink. Murdered. The three skaters who trained with her are suspects, as are the mother of two of the skaters, the physiotherapist who works with the skaters, and the rink's handyman of a Zamboni driver. It's up to Charlie and co. to figure out which one of them is a cold-blooded killer. Speaking of (sort of), Dr. Sarah Truong (Mayko Nguyen, Killjoys, ReGenesis) discovers something interesting about the victim's blood. (And we learn what Rex is a fan of, in addition to burgers.) As Sarah and Charlie dig deeper to determine the who, why, and where of this murder mystery, they find themselves in a chilling situation in which they could be the next victims.
Both of these episodes of Hudson & Rex: Season 2, along with Episode 3, "Blind Justice," are available to stream now (earlier than their originally-scheduled July 28 premiere date) on UP Faith & Family and its digital channels. New episodes will debut weekly.
For viewers who enjoy entertaining cop dramas that are on the lighter side, have little on-screen violence or sex, and make for family-friendly viewing, Hudson & Rex fits the bill.
Season 2 features regular cast member Kevin Hanchard (Cardinal, Orphan Black) as Police Superintendent Donovan, and guest stars David Hewlett (Departure) and Michelle Nolden (Saving Hope), amongst others.
__________________
As an affiliate of Amazon and other companies, ads & affiliate links on this blog allow us to earn income from qualifying actions and purchases (at no extra cost to you).

Hudson & Rex: Season 2 of Canadian Police Procedural Series Premieres in the US