Spectrum Originals has set the US premiere date for The Holiday, its latest British TV drama. Check out the trailer.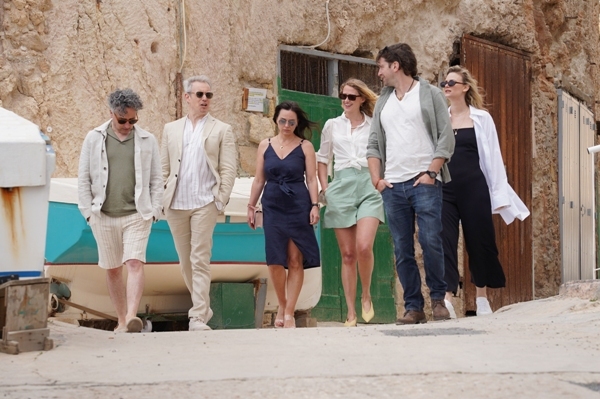 Based on T.M. Logan's best-selling novel The Holiday (renamed The Vacation for readers in the US), the four-episode limited series The Holiday sees a family's dream vacation turn into a nightmare as dark secrets trigger fears of betrayal.
The story follows Kate (Jill Halfpenny, The Drowning, Liar) as she and her family head off on an idyllic holiday in Malta. Joining them for the getaway at a luxury villa are Kate's three best friends from university and their families. But what's supposed to be fun in the sun turns decidedly dark very quickly.
Kate discovers that her husband, Sean (Owen McDonnell, Killing Eve), is having an affair with one of her friends — but which one? As she tries to figure out with whom he has been betraying her, the holiday goes totally sideways. Tensions run high and fingers of suspicion are pointed everywhere as the group grapples with what is happening and layers of lies are uncovered.
The Holiday, a Spectrum Originals series, premieres in the US in its entirety on Monday, June 20, exclusively on Spectrum.
Costars include Lara McDonnell (Ballistic), Aidan McArdle (Mr. Selfridge), Siobhan Hewlett (McDonald & Dodds), Liv Mjönes (The Lawyer), Andrew Macklin (Doctors), Cat Simmons (Ordinary Lies), Shaun O'Callaghan Wade, Molly McCann (Cold Courage), and Aidan McCann (Red Rock).
A production of Projector Pictures, Clapperboard Studios, and Night Train Media in association with All3Media International, the drama is created and written by Michael Crompton (Silent Witness, Safe House, Code of a Killer), directed by Laura Way (Blood), and produced by Julie Ryan.
__________________
As an affiliate of Amazon and other companies, ads & affiliate links on this blog allow us to earn income from qualifying actions and purchases (at no extra cost to you).

The Holiday: Spectrum Originals Sets US Premiere Date for New Thriller