The new Apple TV+ family series Lovely Little Farm is set for its global premiere tomorrow. Check out the exclusive clip!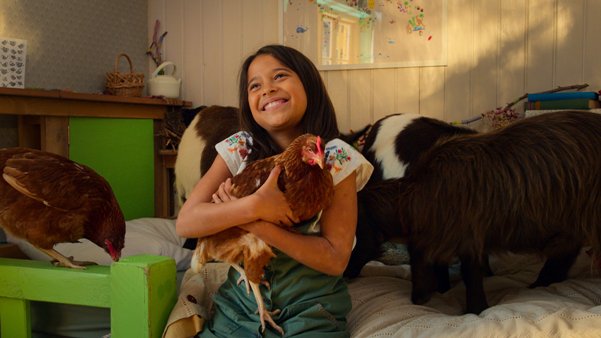 Lovely Little Farm is a live-action animated hybrid that uses the latest computer-generated technology, working with Industrial Light and Magic, to bring the series to life.
The seven-episode series premieres globally, in its entirety, tomorrow, Friday, June 10, exclusively on Apple TV+.
Lovely Little Farm follows sisters Jill (Levi Howden) and Jacky (Kassidi Roberts) as they love and nurture all of the animals on their farm nestled in lavender fields. Being a young farmer isn't easy, but every day brings these siblings adventure and a chance to grow.
In the exclusive clip below, Jill has to move her animal friends out of her bedroom to make room for her sister, Jacky, as they have a baby brother coming and the flock can't stay in the house!
So Jill decides to start her own farm in the family barn, but soon discovers that it's already occupied — by bossy duckling Quackety Duck Duck (voiced by Shirley Henderson, Harry Potter).
The series also features the voice talents of Dominique Moore (Thomas & Friends) as Pickle Pony, SAG Award nominee Joel Fry (Paddington 2) as Al Alpaca, and Canan Yildiz-Husbands as Bif & Bop. Live-action cast members include Cicely Giddings (My Family) as mom Jenna, Micah Balfour (Emmerdale Farm) as dad Jonas, and Barry McCarthy (Harry Potter and the Cursed Child: London Show) as grandpa Jamma.
A project of London-based Darrall Macqueen, the production company behind the BAFTA TV Awards-winning program Topsy and Tim, Lovely Little Farm is created by BAFTA Award winners Maddy Darrall and Billy Macqueen, along with Catherine Williams — all of whom worked together on Teletubbies, Topsy & Tim, and Waffle the Wonder Dog.
Darrall and Macqueen serve as executive producers alongside Tony Cooke (PJ Masks), who is also the head writer. The lead director is two-time Director's Guild Award winner Jack Jameson (When You Wish Upon A Pickle).
For the series, Apple TV+ partnered with change-maker Dr. Gail Melson, a leader in the field of Human-Animal interaction and former Professor Emerita in the Department of Human Development & Family Studies at Purdue University. Dr. Melson worked with the executive producers to develop the show based on her research on children's relationships with animals, nature, and emerging technologies.
__________________
As an affiliate of Amazon and other companies, ads & affiliate links on this blog allow us to earn income from qualifying actions and purchases (at no extra cost to you).

Lovely Little Farm: Watch Exclusive Clip from New Apple TV+ Family Series