It's been several weeks since Part 1 of Season 2 of hit Canadian medical drama Transplant completed its run. Tonight the second half begins (yay!) in a new timeslot.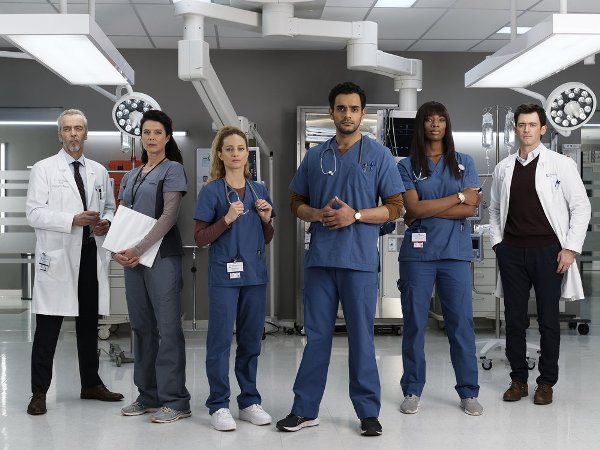 Transplant follows the story of Dr. Bashir "Bash" Hamed (Hamza Haq, The Indian Detective), a talented doctor who fled his native, war-torn country of Syria with his younger sister, Amira (Sirena Gulamgaus, Orphan Black), to make a new life for themselves in Canada.
In the series opener, Bash was working as kitchen help at a small restaurant in Toronto when a truck crashed into the place. He ended up saving the life of a customer, Dr. Jed Bishop (John Hannah, The Victim), the Chief of Emergency Medicine at the nearby York Memorial Hospital — an act that led to Bishop hiring Bash as a resident in the ER.
Through Bash's story we got to know those of his colleagues, including overachieving resident Dr. Magalie "Mags" Leblanc (Laurence Leboeuf, 19-2), resident surgeon Dr. June Curtis (Ayisha Issa, Dark Matter), and pediatric resident Dr. Theo Hunter (Jim Watson, Designated Survivor), as well as Dr. Bishop.
The first half of Season 2 saw Bash et al continuing to take care of patients in life-threatening situations, but while reporting to a different boss during Dr. Bishop's recovery. Now back on the job, Bishop's current circumstance could bode ill for him, and by extension for Bash, down the road. Meanwhile, a woman from Bash's past in Syria showed up in Toronto, reuniting with him, much to Amira's delight. As the weeks went by, though, tension grew between them. At work Bash took some risks that could have jeopardized his livelihood, and at least one case caused him to be burdened with guilt.
In tonight's episode, "Scars," Bash's past weighs heavily on him as he fights for an emancipated teenager with a failing kidney, and Mags treats a baby with a complicated heart condition. After a patient's parent makes waves, Bishop advises Bash to play it safe.
Looking ahead, Dr. Curtis's personal and professional lives collide, Mags gets flooded by memories of her own health struggles as a child, Theo gets a surprise visit, and Bash's performance comes under very close scrutiny. A city-wide blackout sends the hospital into total darkness and chaos, and later, Bishop reveals a new staffing development. And there's much more besides…
Transplant: Season 2, Part 2 starts tonight, Saturday, May 28, at 8 PM ET/PT, on NBC. The Season 2 finale is currently scheduled to air Saturday, July 16, at 8 PM. Episodes will be available for streaming on Peacock TV the day after their linear debuts.
__________________
As an affiliate of Amazon and other companies, ads & affiliate links on this blog allow us to earn income from qualifying actions and purchases (at no extra cost to you).

Transplant: Season 2 of Hit Canadian Medical Drama Returns Tonight