Acorn TV announced today the US and Canada premiere date for Season 3 of police procedural drama London Kills. Check out the trailer.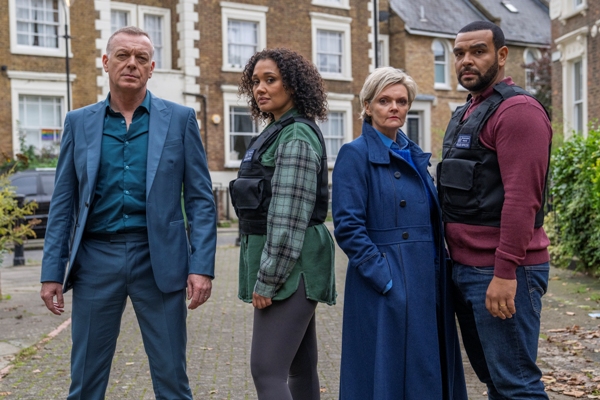 It's been a long time coming (nearly three years), but Season 3 of Acorn TV Original London Kills will arrive soon on this side of the pond. The new season premieres in the US and Canada in its five-episode entirety on Monday, June 6, exclusively on Acorn TV.
For folks who might not be familiar with London Kills, the series, shot in a cutting-edge documentary style, dramatizes the experiences of an elite murder investigation squad in central London. Detective Inspector David Bradford (Hugo Speer, Shadow and Bone, Marcella) leads the team, which includes Detective Sergeant Vivienne Cole (Sharon Small, Flesh and Blood, The Bay), Detective Constable Rob Brady (Bailey Patrick, Bridgerton, Bodyguard), and Trainee Detective Constable Billie Fitzgerald (Tori Allen-Martin, Unforgotten, Pure).
While Season 1 and Season 2 feature episodes with standalone stories, and a sub-plot that arcs across them, it looks like Season 3 follows a single case. The new season opens with the detectives investigating the fatal stabbing of a young man. It soon becomes clear that his killer has access to confidential police intelligence — so are they looking for one of their own? In an attempt to find out, Cole appeals to her ex-husband, a Detective Superintendent, for help. He agrees to turn "supergrass," but is murdered before he can pass on any information. And when the team finally track down the killer, Vivienne is forced to face demons that she buried long ago — and, as a result, she and Bradford end up crossing a line.
Created and co-written by Paul Marquess (Suspects, M.I.T.: Murder Investigation Team), the series is executive produced by Paul Marquess and Donna Wiffen for PGMTV, and Catherine Mackin and Bea Tammer for Acorn Media Enterprises.
Season four of London Kills is confirmed to debut in 2023. Stay tuned for updates.
__________________
As an affiliate of Amazon and other companies, ads & affiliate links on this blog allow us to earn income from qualifying actions and purchases (at no extra cost to you).

Share this post/page.

London Kills: Acorn TV Sets Premiere Date for Season 3 of Police Procedural