Acorn TV announced today the premiere date for its latest Original series, Signora Volpe, starring Emilia Fox. Check out the trailer.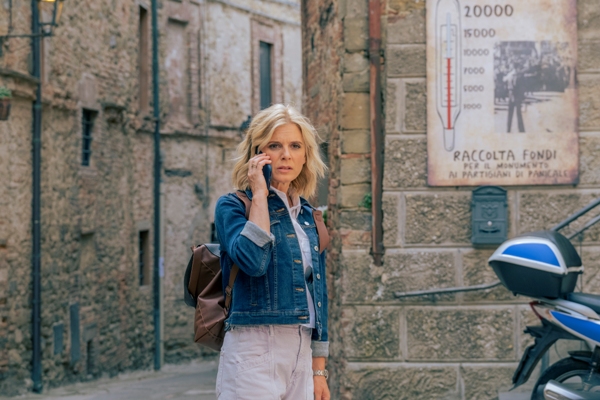 Most British TV fans will immediately recognize Emilia Fox from her roles in the long-running mystery-crime drama series Silent Witness and recent fan-favorite dramedy Delicious. She will return to our screens as the titular character in the new Acorn TV Original mystery series Signora Volpe, which premieres in the US on Monday, May 2, exclusively on Acorn TV. New episodes in the three-part drama will debut weekly through May 16.
Filmed on location in the stunning Lazio and Umbria regions of Italy, Signora Volpe follows Sylvia Fox (Fox), an intelligent, confident 40-something woman who tends to stay mum about her formidable linguistic abilities, impressive knowledge of weaponry, and bullseye skills as a markswoman. When questions come up about her professional life, she offers bland answers about an unspectacular career in the Civil Service — which is only slightly true, because until recently, Sylvia was a high-ranking British spy.
When Sylvia arrives in Italy for the wedding of her niece Alice (Issy Knopfler, Before We Die), she's disillusioned with her job at MI6 headquarters in London and in need of a break. But when the bridegroom disappears, leaving a dead body in the lake at the bottom of his garden, Sylvia takes it upon herself to solve the mystery and save Alice from disaster.
Despite this unusual and unpromising start to her holiday, Sylvia is enchanted by Umbria (located in the mid-thigh area of Italy's "boot" on a map). She's also surprised and pleased to find herself reconnecting with her estranged sister, Isabel Vitale (Tara Fitzgerald, Game of Thrones, Belgravia), who lives in the handsome hillside town of Panicale. And when Sylvia stumbles upon a beautiful, derelict old house, she decides to buy it, quit her job, and start afresh.
But Sylvia was never cut out for a quiet life, so she gets involved in several mysteries — from the disappearance of a young woman a quarter of a century ago, to the theft of a truffle pig, to a blackmail plot against the son of a Russian politician. Although Carabinieri Captain Giovanni Riva (Giovanni Cirfiera, American Crime Story, Ford v Ferrari) initially resents Sylvia's interference, he soon begins to seek her help.
Costars in the series include Mehdi Meskar (Le Monstre, SKAM Italia), Matteo Carlomagno (Don Matteo, Anti-Drug Squad), Imma Piro (The Bastards of Pizzofalcone, A Case of Conscience), Jamie Bamber (Law & Order: UK), and Bronagh Gallagher (Pramface).
Created, written, and executive produced by Rachel Cuperman (Midsomer Murders) and Sally Griffiths (Midsomer Murders), Signora Volpe is also executive produced by Josie Law (Albatross), Marc Samuelson (Tom & Viv), Dudi Appleton (The Most Fertile Man), and Emilia Fox, with Mark Brozel (Troy: Fall Of A City) and Appleton serving as directors, and Patricia Rybarczyk (Tango One) as producer.
__________________
As an affiliate of Amazon and other companies, ads & affiliate links on this blog allow us to earn income from qualifying actions and purchases (at no extra cost to you).

Share this post/page.

Signora Volpe: Acorn TV Sets Premiere Date for New Emilia Fox Mystery Series