BBC America has announced that it will co-produce Mood, the highly-anticipated first drama series from actor, writer, and singer-songwriter Nicôle Lecky.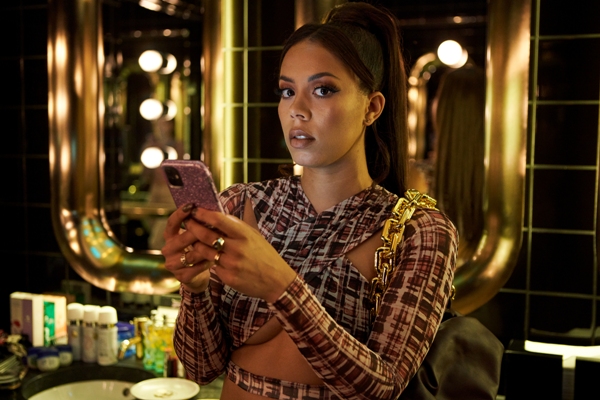 Based on Nicôle Lecky's critically-acclaimed Royal Court play Superhoe, and produced by Bonafide Films for BBC Three, Mood follows Sasha Clayton (Lecky), a 25-year-old wannabe singer. The ground-breaking six-part series is told in part through the songs that Sasha creates, and features an innovative original soundtrack performed by Lecky.
Sasha wants to be a major recording artist, but right now she's a bedroom artist, spending her days smoking weed and stalking her ex-boyfriend (Jordan Duvigneau, My Mum Tracy Beaker) on Instagram, and avoiding her mum (Jessica Hynes, Years and Years), her stepdad (Paul Kaye, Game of Thrones), and her sister Megan (Mia Jenkins, Hanna).
When she is kicked out of her family home, Sasha is forced to fend for herself, sofa-surfing with local dealer Saleem (Mohammad Dalmar) until she moves in with party girl Carly (Lara Peake, Brave New World), who introduces her to the exciting world of social media influencing. But as the gap between her online presence and her dream of being a singer continues to grow, Sasha finds herself struggling to escape a world that is more complex and darker than she could have imagined.
Mood will premiere in the US on BBC America, as well as in the US, Canada, and Australia on premium streaming bundle AMC+, in Fall 2022.
Nicôle Lecky said:
"Mood started as a one woman play and I had such a joy creating the world and performing these characters. Working with Bonafide and teams at the BBC and BBC America to bring them to life on screen has been a dream. I cannot wait for everyone to see our super talented cast and live every moment with Sasha and them."
Blake Callaway, General Manager of BBC America noted:
"We are excited to break new ground again. Mood is a bold story featuring ambition, attitude, dark humor and a killer soundtrack. Nicôle Lecky is a singular talent that will sit alongside the other breakout women led shows that have defined success on BBC America. Sasha is the ideal addition to a slate that has included the first female Doctor Who, Villanelle, Eve and the clones of Orphan Black."
Margery Bone, Executive Producer for Bonafide Films, said:
"We are delighted to be working with BBC America on Mood, their passion and commitment shows they are the perfect home to bring Mood to US audiences."
And Kelly Miller, SVP, Scripted Strategy, BBC Studios, said:
"We are thrilled that BBC America will be the home for Nicôle Lecky's Mood and we can't wait to see her incredible talent on screen in the U.S."
Featuring in Mood are Flo Wilson (Death in Paradise), Jordan Myrie (Stephen), Jason York (Sliced), Chantelle Alle (We Are Lady Parts), and Ebony Aboagye (The Lost Girls).
Directed by Dawn Shadforth and Stroma Cairns and produced by Lisa Walters, Mood is written by and stars Nicôle Lecky. The series is executive produced by Nicôle Lecky, Margery Bone for Bonafide Films, and Lucy Richer and Ayela Butt for the BBC. BBC Studios is distributing the series internationally.
__________________
As an affiliate of Amazon and other companies, ads & affiliate links on this blog allow us to earn income from qualifying actions and purchases (at no extra cost to you).

Mood: BBC America to Co-Produce Nicôle Lecky Drama