After Life, one of the best shows on telly today, will be back soon with its third and final season. Check out the trailer.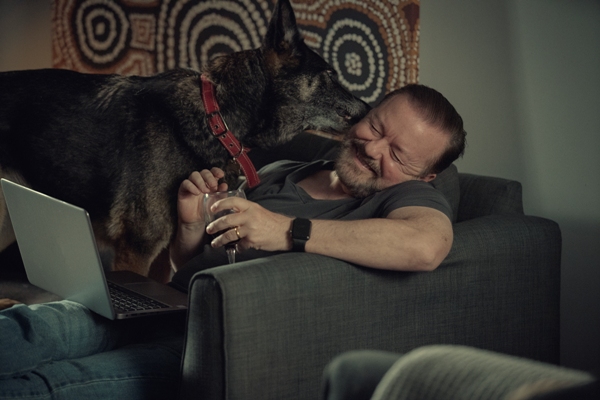 While the story of Tony Johnson's journey through grief will be coming to a close soon, it will live on as long as it's available for streaming on Netflix. That's a good thing, cos the show — at times hilarious and deeply moving, always real and ultimately uplifting, cathartic even — is brilliant and worth bingeing multiple times.
Since it debuted in 2019, we've watched as Tony, a writer for a small-town newspaper, took his grief over losing his wife, Lisa, out on the world by taking a bleep-you attitude toward everyone and everything (except their dog, Brandy) — saying and doing whatever he wanted, regardless of the hurt, anger, irritation, and WTF feelings experienced by folks on his path.
While battling his grief-induced depression, Tony tried to not be so miserable and to be more appreciative and acknowledging of people, and had some measure of success. Then his dad died.
But as we'll see, this loss doesn't push Tony over the edge. He's learned a thing or two since the start of his grieving process — about himself, life, and the things that really matter…
(Fyi, the trailer features TV-MA-rated language.)
Created, written and directed by series star Ricky Gervais (The Office), the highly-anticipated final season of the award-winning After Life costars Anti, Tom Basden (Plebs), David Bradley (Game of Thrones), Kerry Godliman (Derek), Ashley Jensen (Agatha Raisin), and Penelope Wilton (Downton Abbey), amongst others.
After Life: Season 3, a Netflix Original series, premieres globally on Friday, January 14, exclusively on Netflix.
__________________
As an affiliate of Amazon and other companies, ads & affiliate links on this blog allow us to earn income from qualifying actions and purchases (at no extra cost to you).

Share this post/page.

After Life: Netflix Drops Trailer for Final Season of Brilliant Ricky Gervais Series