Netflix has announced the global premiere date for Vikings: Valhalla, its upcoming historical action-adventure series.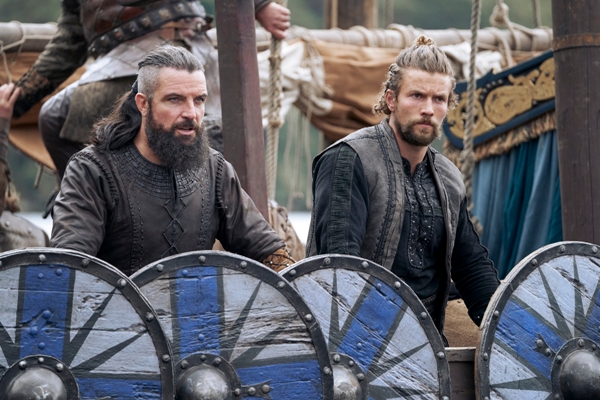 Set in the early 11th century, more than 100 years after the end of the original Vikings series, Vikings: Valhalla chronicles the heroic adventures of some of the most famous Vikings who ever lived: the legendary explorer Leif Eriksson (Sam Corlett, Chilling Adventures of Sabrina), his fiery and headstrong sister Freydis Eriksdotter (Frida Gustavsson, The Witcher), and the ambitious Nordic prince Harald Sigurdsson (Leo Suter, Sanditon).
A Greenlander raised on the outer fringes of the known world, Leif Eriksson comes from a tightly-knit family steeped in the old pagan beliefs. Freydis Eriksdotter, a staunch believer in the "old gods," reaches Kattegat as an outsider like her brother, but becomes an inspiration to those of the old ways. And the charismatic Harald Sigurdsson, one of the last Viking berserkers, is able to unite the followers of Odin and the Christians.
As tensions between the Vikings and the English royals reach a bloody breaking point and as the Vikings themselves clash over their conflicting Christian and pagan beliefs, these three Vikings begin an epic journey that will take them across oceans and through battlefields — from Kattegat to England and beyond — as they fight for survival and glory.
Also in the lead cast are Bradley Freegard (Keeping Faith) as King Canute of Denmark, a wise, savvy and ruthless Viking leader; Jóhannes Haukur Jóhannesson (The Letter for the King) as Olaf Haraldsson, Harald's older half-brother and an "Old Testament" Christian; Laura Berlin (Einstein) as the ambitious, wealthy, and politically astute Emma of Normandy, who is of Viking blood; David Oakes (Victoria) as Earl Godwin, chief counsellor to the King of England; and Caroline Henderson (Christmas Star) as Jarl Haakon, the Pagan ruler of Kattegat.
Playing recurring characters are Pollyanna McIntosh (The Walking Dead) as the calculating and ambitious Queen Ælfgifu of Denmark, and Asbjørn Krogh Nissen (The Bridge) as Jarl Kåre, who presents a threat to the old pagan ways.
A production of MGM Television, Vikings: Valhalla is executive produced by showrunner Jeb Stuart, along with executive producers Morgan O'Sullivan, Michael Hirst, Sheila Hockin, Steve Stark, James Flynn, John Weber, Sherry Marsh, Alan Gasmer, and Paul Buccieri.
Vikings: Valhalla, a Netflix Original series, launches globally on February 25, 2022, exclusively on Netflix. (You can set a reminder for it now.)
__________________
As an affiliate of Amazon and other companies, ads & affiliate links on this blog allow us to earn income from qualifying actions and purchases (at no extra cost to you).

Share this post/page.

Vikings: Valhalla: Netflix Sets Premiere Date for New Historical Action Drama