Check out the clips for the latest episode of The Graham Norton Show, featuring two members of TV royalty, an Olympian champion, and a hit-making band.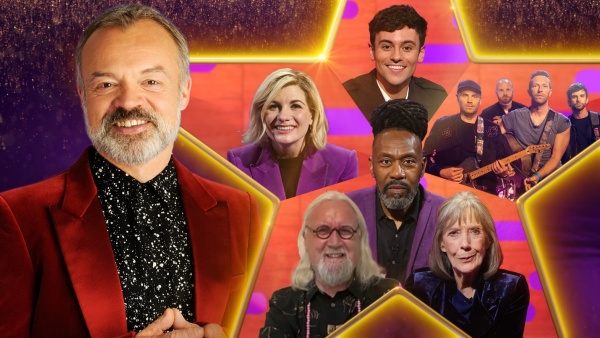 As Season 29 of The Graham Norton Show continues, tonight's episode sees the host chatting with acting great Dame Eileen Atkins, comedy legend Sir Billy Connolly, British Olympic champion diver Tom Daley, comedian and writer Sir Lenny Henry, Doctor Who's Jodie Whittaker, and the mighty Coldplay.
In this clip, Coldplay's Chris Martin explains how a collaboration between Coldplay and BTS started with a rumor and ended with him being kicked out of Korea.
Here actor Billy Connolly recalls his very eventful naked dance across Trafalgar Square.
Olympic champion diver Tom Daley shares the touching way his late father was honored.
And actress Eileen Atkins remembers the time she "did it" with Mick Jagger and The Rolling Stones in a forest.
Episode 4 of The Graham Norton Show airs in the US tonight, October 22, at 11 PM ET, on BBC America, and streams on AMC+.
__________________
As an affiliate of Amazon and other companies, ads & affiliate links on this blog allow us to earn income from qualifying actions and purchases (at no extra cost to you).

Share this post/page.

The Graham Norton Show: Dame Eileen Atkins, Sir Billy Connolly, Sir Lenny Henry & More Tonight!