Today HBO dropped the first official teaser for its upcoming drama series House of the Dragon, the highly-anticipated prequel to Game of Thrones.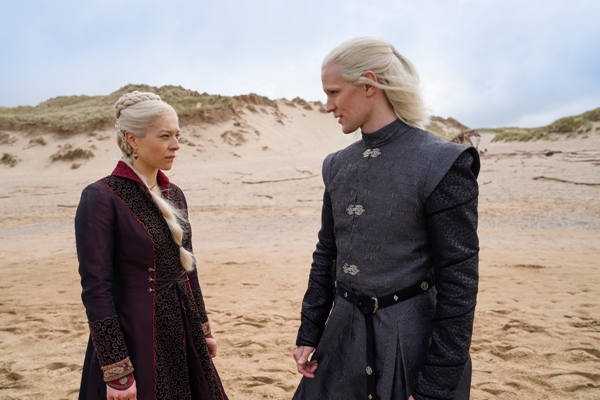 "Gods. Kings. Fire. And blood. Dreams didn't make us kings. Dragons did."
So says Prince Daemon Targaryen in the voice-over for the teaser for House of the Dragon, the Game of Thrones prequel based on George R.R. Martin's novel Fire & Blood. Set 200 years before the events of the global hit series, the new fantasy drama tells the story of House Targaryen.
The teaser features the first official footage from House of the Dragon, which includes snippets of both Milly Alcock (Upright) and Emma D'Arcy (Truth Seekers) as Princess Rhaenyra Targaryen, the king's first-born child, a pure-blooded Valyrian and a dragonrider; Matt Smith (Doctor Who) as Prince Daemon Targaryen, younger brother of King Viserys and heir to the throne; and Steve Toussaint (Pine Gap) as Lord Corlys Velaryon, aka "the Sea Snake," the Lord of House Velaryon, a Valyrian bloodline as old as House Targaryen.
Other previously announced cast members include:
Olivia Cooke (Vanity Fair) as Lady Alicent Hightower, the daughter of Ser Otto Hightower, the Hand of the King
Rhys Ifans (Berlin Station) as Ser Otto Hightower
Paddy Considine (The Suspicions of Mr Whicher) as King Viserys Targaryen, King of the Seven Kingdoms
Eve Best (Lucky Man) as Princess Rhaenys Velaryon, the dragon-riding wife of Lord Corlys Velaryon
Sonoya Mizuno (Devs) as Mysaria, an ally of Prince Daemon Targaryen
Fabien Frankel (The Serpent) as Ser Criston Cole, the Dornish, common-born son of the steward to the Lord of Blackhaven
Emily Carey (The Canterville Ghost) as the young Alicent Hightower
Ryan Corr (Packed to the Rafters) as Ser Harwin 'Breakbones' Strong, the eldest son to Master of Laws Lyonel Strong and heir to Harrenhal
Jefferson Hall (Vikings) as twins Lord Jason Lannister, the Lord of Casterly Rock, and Tyland Lannister, a crafty and calculating politician.
David Horovitch (The Murders at White House Farm) as Grand Maester Mellos, trusted advisor to King Viserys
Graham McTavish (Outlander) as Ser Harrold Westerling, a longtime member of the Kingsguard
Matthew Needham (Sanditon) as Larys Strong, younger son of Master of Laws Lyonel Strong
Bill Paterson (Fleabag) as Lord Lyman Beesbury, the Lord of Honeyholt and Master of Coin on King Viserys's small council
Gavin Spokes (The Picress File) as Lord Lyonel Strong, Master of Laws to King Viserys and Lord of Harrenhal
Newly-revealed cast members include:
Wil Johnson (Emmerdale Farm) as Ser Vaemond Velaryon, younger brother of Coryls Velaryon and commander in the Velaryon navy
John Macmillan (Back) as Ser Laenor Velaryon, son of Corlys Velaryon and Rhaenys Targaryen
Savannah Steyn (Intergalactic) as Lady Laena Velayron, daughter of Corlys Velaryon and Rhaenys Targaryen
Theo Nate (Time) as Ser Laenor Velaryon, son of Corlys Velaryon and Rhaenys Targaryen
HBO will launch House of the Dragon in 2022. Stay tuned for updates.
__________________
As an affiliate of Amazon and other companies, ads & affiliate links on this blog allow us to earn income from qualifying actions and purchases (at no extra cost to you).

Share this post/page.

House of the Dragon: HBO Drops Official Teaser for 'Game of Thrones' Prequel