A week after the early preview comes the official US premiere of the Cush Jumbo-Jared Harris revenge thriller The Beast Must Die.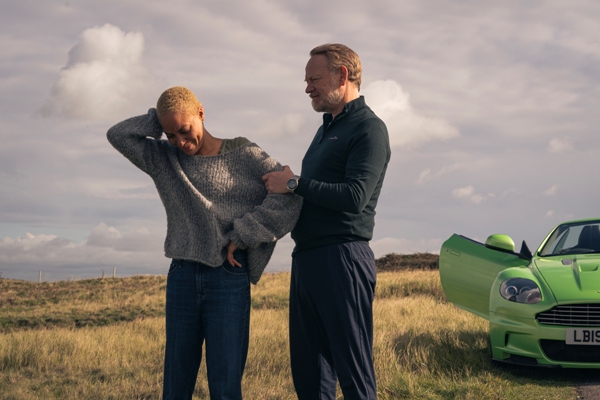 "I am going to kill a man. I don't know his name. I don't know where he lives. I have no idea what he looks like. But I'm going to find him. And kill him."
These words, spoken in all seriousness and sincerity by the bereaved Frances Cairnes (Cush Jumbo, The Good Fight), open The Beast Must Die, a modern-day retelling of Nicholas Blake's novel of the same name (Book 4 in his "Nigel Strangeways" series).
Frances, a widowed teacher in London, is still grieving the death of her young son, Martie, killed by a hit-and-run driver on Easter Sunday while they were on holiday on the Isle of Wight. After the police investigation turned up no leads and she subsequently received a "no further action" letter, Frances returns to the Isle of Wight to find out why the police have, in effect, given up. But it's the first day on the job here for London transplant DI Nigel Strangeways (Billy Howle, ​The Serpent), and with the case file being incomplete and no one in the office to fill him in on the missing details, his contribution to the conversation is minimal and the meeting does not go well for either of them. Frances gets so enraged that she storms out of the room and sets about her plan to kill her son's killer, while her door-slamming triggers in PTSD-suffering Nigel a quaking anxiety attack. It will not be the last one that he has while on duty.
In putting her plan in motion, Frances works out in advance certain elements, such as her name and new look, while she must improvise others, such as her initial cover story, in her quest to learn the identity of the hit-and-run driver. Her information-gathering leads her to Lena, a wannabe actress who likely witnessed the tragic event, and then to Lena's brother-in-law, the man Frances believes killed her son: successful businessman, consummate bully, and possible gaslighter George Rattery (Jared Harris, Chernobyl). According to George, "If you're smart enough to get away with something, you probably deserve to."
Under the guise of being a former teacher pursuing her dream of being a published author, Frances accepts the offer of George and his fragile wife, Violet, to stay in their guest house to do her writing, much to the chagrin of his privileged, poisonous, and likely racist sister, the ironically-named Joy. Still, Frances is determined to avenge her son's death and takes advantage of all of the opportunities, both offered and created, to get closer and closer to making it happen, including the bond she develops with George's bullied son, Phil.
Meanwhile, Nigel has been seeing his therapist about his PTSD while dealing with small-time crimes alongside local copper Vincent O'Brien. However, Nigel's big-city detective instincts tell him that something isn't right with the unsolved hit-and-run case, so he begins to investigate it anew and discovers several troubling facts.
Elsewhere on the Isle of Wight, members of the Rattery family continue to drown in their marital, parental, filial, sibling, and overall familial dysfunctions. Then an unexpected occurrence puts Frances's murderous plan sideways…
The six-episode thriller costars Mia Tomlinson (The Lost Pirate Kingdom) as Lena, Maeve Dermody (And Then There Were None) as Violet, Geraldine James (Anne with an E) as Joy, Barney Sayburn as Phil, Douggie McMeekin (Harlots) as Vincent O'Brien, William Llande as Martie, and Nathaniel Parker (The Inspector Lynley Mysteries) as therapist Dr. Blount. Also featuring in the limited series are Aasiya Shah (Unforgotten), Elina Knihtilä (Shadow Lines), and Manjinder Virk (Midsomer Murders).
The Beast Must Die has its official US premiere tonight, July 12, at 10 PM ET, on the AMC linear channel. New episodes will debut weekly, with AMC+ continuing to stream them one week ahead of their linear broadcasts.
__________________
As an affiliate of Amazon and other companies, ads & affiliate links on this blog allow us to earn income from qualifying actions and purchases (at no extra cost to you).

Share this post/page.

The Beast Must Die: Official US Premiere of Revenge Thriller Happens Tonight