Ben Miller is back and fabulous as ever as the eponymous lecturer and police advisor in Professor T, the English-language remake of the hit Belgian series of the same name.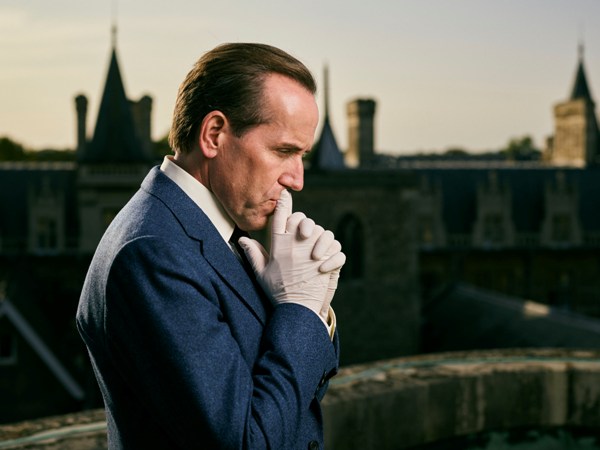 In little more than an hour — directly following the debut of Unforgotten: Season 4 — viewers on this side of the pond will have the pleasure of seeing Ben Miller (Bridgerton) in a new, post-Death in Paradise crime-solving role in Professor T.
Here he plays Professor Jasper Tempest, a persnickety, fastidious, germaphobic lecturer in criminal psychology at Cambridge University's Department of Forensic Criminology. He's structured his life in rather precise and clean terms — from the amount of ground coffee he uses for his morning cuppa, to using a specialty brush to ensure his vinyl LPs are dust-free. So having his overbearing artistic mother interfering in his otherwise well-ordered life is like fingernails on a chalkboard to him. And in relatively short order, Professor T will find that even more than motherly meddling is starting to upset his mind and upend his life, his occasional flights of fancy notwithstanding.
One evening a female student is attacked and raped in the ladies' room on campus. Investigating the case are DS Lisa Donckers (Emma Naomi, Bridgerton), her partner DS Dan Winters (Barney White, The Musketeers), and their boss, DI Paul Rabbit (Andy Gathergood, The Salisbury Poisonings). Based on the victim's initial statement, the only clue the police have to go on is the necklace the rapist took from her. Small as it may seem, it's a clue that reminds Lisa of a case that occurred five years earlier, another rape that has gone unsolved — and has haunted Lisa ever since. Could the attacker be the same person in both cases?
In order to get more information, Lisa visits Jasper, her former professor, and asks for his help, positive that he can get inside the traumatized victim's mind and help her recall details of the attack. But Jasper is concerned about a more pressing matter in his life, namely his childhood home — the scene of both happy times and ghastly events — which his mother, Adelaide (France de la Tour, Vicious), has put on the market.
Then another attack on another female student happens.
With Chief Inspector Christina Brand (Juliet Aubrey, Snatch), who has history with Jasper, having made it official for Professor T to advise the Cambridge Police, question victims and witnesses, and the like, he sets about helping the first victim to move past the barriers in her memory and remember details of the attack, of which one proves critical.
Subsequent cases that Professor T becomes involved with include: the poisoning death of the school's head librarian, who may or may not have been the intended victim; a hostage situation involving a jeweler and his family; the attack of a man and the concurrent kidnapping of his young daughter; the murder of a woman, whose daughter with Down Syndrome might know the identity of the killer; and the death of a wealthy businessman following a failed assassination attempt on his life.
Comparisons between this British version of Professor T to the Belgian version are inevitable, but really each stands on its own. While the murder mysteries have essentially the same intricate storylines and characters, other aspects of the UK series differ to varying degrees from the original, giving it its own flavor and sensibilities, all highlighted by the talented Ben Miller as the serious yet still quirky lead character.
The six-episode season costars Sarah Woodward (Queens of Mystery) as Ingrid Snares, the criminology department secretary; Douglas Reith (Downton Abbey) as the dean and a friend of Adelaide; Ben Onwukwe (Safe) as Lisa's dementia-suffering father; and Rupert Turnbull (Mrs. Wilson) as young Jasper.
Professor T premieres in the US this evening, Sunday, July 11, at 10 PM ET, on PBS (check your local listings) and the PBS app, as well as PBS Passport, where the entire season will be available for your binge-watching pleasure.
__________________
As an affiliate of Amazon and other companies, ads & affiliate links on this blog allow us to earn income from qualifying actions and purchases (at no extra cost to you).

Share this post/page.

Professor T: British Version of Hit Belgian Mystery Series Arrives in the US