Ovation TV announced today the debut date for the award-winning drama The Hour, which joins the arts network's "Mystery Alley" lineup next month.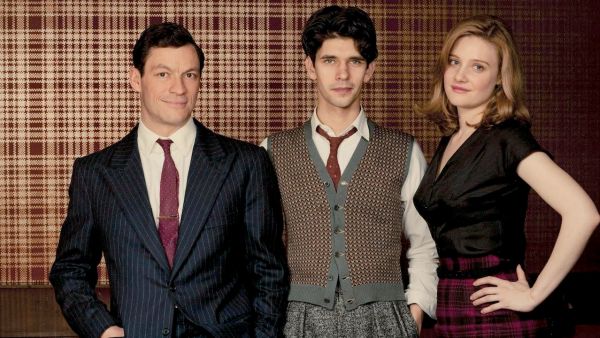 One of the most brilliant British miniseries to ever screen on this side of the pond is The Hour, the Primetime Emmy® Award-winning drama from Emmy and BAFTA Awards winner Abi Morgan (River, The Split).
Set in Cold War-era England, The Hour is a behind-the-scenes news drama and espionage thriller that brings viewers into the world of 1950s television journalism. It centers on a journalist, a producer, and an anchorman for an investigative news program — played by Ben Whishaw (A Very English Scandal, London Spy, Skyfall), Romola Garai (Emma, The Crimson Petal and the White, The Miniaturist), and Dominic West (The Crown, The Affair, Les Misérables), respectively.
In the series opener, a small team of British journalists launches an hour-long investigative news show on BBC television called The Hour. Producer Bel Rowley (Garai) pulls in Freddie Lyon (Whishaw), the best reporter she knows, to serve as the show's home affairs correspondent, while the handsome and charismatic Hector Madden (West) gets the coveted position of presenter. Also on the team are Lix Storm (Anna Chancellor, Hotel Portofino, Fleming), who heads up the show's foreign desk, and BBC translator Thomas Kish (Burn Gorman, Torchwood, TURN: Washington's Spies), who helps them to cover the developing Suez Crisis.
The Hour: Season 1 will make its debut on Ovation TV on Saturday, July 17, at 7 PM ET/4 PM PT, during the "Mystery Alley" programming block — the network's linear destination that celebrates the craft of mystery storytelling. Subsequent episodes debut weekly, and all episodes will be available on demand and on the Ovation NOW app the day after their broadcasts.
__________________
As an affiliate of Amazon and other companies, ads & affiliate links on this blog allow us to earn income from qualifying actions and purchases (at no extra cost to you).

Share this post/page.

The Hour: Season 1 of Brilliant Drama Gets Debut Date on Ovation TV