Street Legal, the 2019 revival of the long-running Canadian legal drama of the same name, will make its stateside premiere on Ovation TV.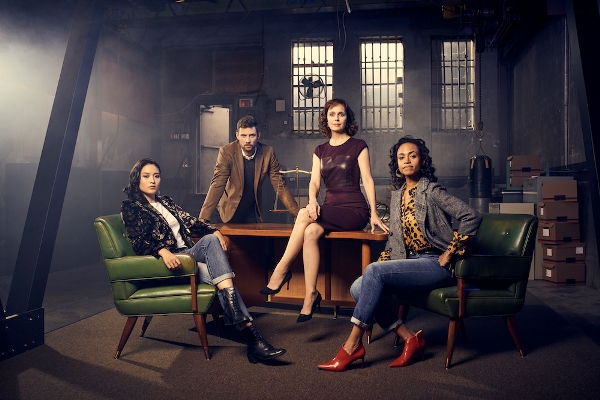 A revival of the second longest-running one-hour scripted drama in the history of Canadian television, Street Legal follows the professional and private lives of a group of ambitious law partners at RDL Legal, a startup boutique law firm in Toronto. Together, they vigorously fight for their clients while testing the limits of their relationships inside and outside of the courts.
In addition to Cynthia Dale, who reprises her role of Olivia Novak from the original series (which ran from 1987 to 1994), the cast includes Cara Ricketts (The Resident) as Lilly Rue, Steve Lund (Schitt's Creek) as Adam Darling, and Yvonne Chapman (Kung Fu) as Mina Lee.
Costars in the six-episode drama include Tom McCamus (Orphan Black), Rosemary Dunsmore (Orphan Black), Patrick Labbé (Transplant), Leni Parker (Barkskins), and Joanne Vannicola (Being Erica).
Eric Peterson and Anthony Sherwood make guest appearances in the series, reprising their original Street Legal roles as Leon Robinovitch and Dillon Beck, respectively.
Street Legal premieres in the US on Tuesday, June 8, at 12:30 AM ET (Monday, June 7, 9:30 PM PT), on Ovation TV. Episodes will also be available on the Ovation NOW app and on demand the day after their broadcast transmission.
This series is the first in Ovation TV's new "Secrets and Crimes" programming block, which features back-to-back film and drama series pairings every Monday night this summer, starting at 7 PM ET / 4 PM PT. Other series under the "Secrets and Crimes" banner include Kiwi mystery-crime drama The Brokenwood Mysteries and Aussie mystery-crime drama Mystery Road (details here).
Episodes of the TV dramas will air "after dark" — immediately following two "Secrets & Crimes"-themed films as their lead-ins. The movie titles include The Usual Suspects, The Bank Job, Clear and Present Danger, Murder at 1600, Smokin' Aces, Tango & Cash, The Thomas Crown Affair, American Outlaws, Pulp Fiction, Bram Stoker's Dracula, Fargo, The Silence of the Lambs, Hannibal, The Quick and the Dead, and The Untouchables.
__________________
As an affiliate of Amazon and other companies, ads & affiliate links on this blog allow us to earn income from qualifying actions and purchases (at no extra cost to you).

Share this post/page.

Street Legal: Ovation TV to Premiere Revival of Canadian Legal Drama in the US