Tomorrow is the worldwide premiere of Whitstable Pearl, Acorn TV's new mystery series starring Kerry Godliman, who spoke with me about her new show and lead role.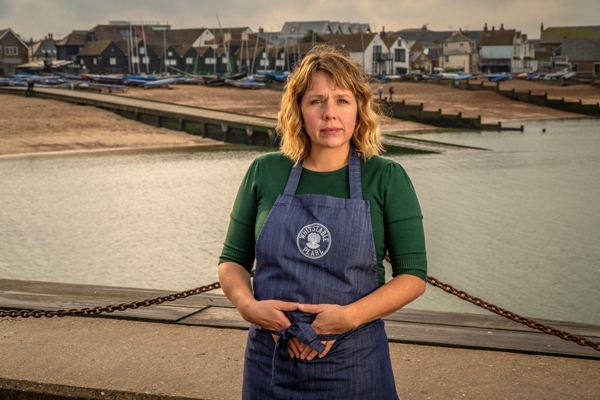 Kerry Godliman is a talented comedian and a gifted actor who has received critical acclaim for her work in the hit series After Life, Save Me, and Derek, to name but a few.
In Whitstable Pearl, Kerry has her first lead role — playing Pearl Nolan, an ambitious and big-hearted Whitstable local who owns and runs the eponymous restaurant and her own private detective agency in the titular English seaside town in Kent.
It is on her home turf that Pearl meets Detective Chief Inspector Mike McGuire (played by The Musketeers's Howard Charles), a rather surly copper just transferred from London to be the new Kent police chief. The two don't get on at first but start to, as they find common ground in the murders and other suspicious crimes taking place in the picturesque 16th century town.
The series is based on the much-loved "Whitstable Pearl Mysteries" novels by Julie Wassmer, of which two have been adapted for the show, with the remaining four episodes in the six-episode first season being original stories. (Acorn TV provided screeners for the first two Whitstable Pearl episodes, which formed the basis of many of my questions for Kerry.)
The books became the launching-off point of my chat with Kerry, who was an utter delight to speak with. (Some text has been edited for clarity and to prevent spoilers.)
Some actors read the books on which their shows are based; others don't. When asked if she'd read the "Whitstable Pearl" books before signing on to the show, and then before filming started, Kerry replied:
"No, I hadn't. I hadn't heard of them before I signed on to the show. And then when I looked them up, I discovered this hugely successful mystery novel series that is very beloved by a lot of people…

"[Before filming] I read the first one, which obviously sets up a lot of the characterization for Pearl and Mike and their backstory and their relationship. But I didn't read any more, partly because once you've kind of created the character in your head, you don't want anything else to interfere with that. And also, TV shows take things in a slightly different direction, so we've used some of the plots from the books but also some have been created for the show."
So how did Kerry create the character of Pearl? From where did she draw inspiration — The Whitstable Pearl Mystery (the first novel in the book series), the scripts…?
"Yeah, I did, but I went more with my own instincts. Once I got a sense of it from the book, I did put that down and put that aside to organically grow it from the inside out. I mean, it's quite hard to verbalize the acting process, because it's more about percolating feelings and finding her tempo and what makes her tick."
With her mentioning of backstory, I asked Kerry if viewers would learn about any of the history between Pearl and the father of her son, Charlie (the latter played by Rohan Nedd of Safe), since we discover something about the woman in Mike's life.
"You find out a lot about Pearl's father. You don't find out about Charlie's father in this series. That is a potential storyline for another series, perhaps? But you do find out a lot about Pearl's father. So there's a storyline that runs through the six [episodes] — so you've got six whodunit, sort of A plots in each episode, but you do have this kind of B plot thing that runs through the six, and there is a bit of a reveal in the last episode about Pearl's family life and something that happened when she was a kid…

"What I do love about this show is, obviously all the different relationships and the way they're entwined with each other — but they can all go off in different directions, as well. They overlap, but they also have their own storyline. Dolly [Pearl's mother, played by Frances Barber of Silk] is a very strong character with her own backstory, and what she reveals is sort of, you know, it's a slow burn through the six episodes. And then obviously you find out more about Mike and why he's in Whistable anyway, and what keeps him there and what happened to him. There's a lot there, and like you say, even outside of the ones that we know, there's potential for other storylines, like Ruby's backstory, Charlie's backstory."
Ruby (played by Isobelle Molloy of Maleficent), the server at the Whitstable Pearl restaurant, and Charlie look to be getting friendly, which to me begged the question of whether there will be any, um, "juiciness" between Pearl and Mike.
"I can't possibly say," chuckled Kerry.
What Kerry could and did say was why she said yes to doing the series and to playing Pearl.
"I loved her. I just thought she was a really interesting woman, and I hadn't had a chance to play anyone like that before. I'd never played a lead before; it was the first time I got to carry a show, to front a show, and I was really excited to have the chance to flesh out a character that's that complex. And I like the duality of her. I like the fact that she's quite tough, but she's also pretty vulnerable, and that she's funny and she's smart and she's feisty and she's ambitious — and I enjoyed playing all those characteristics."
I mentioned to Kerry that I thought Pearl has a very high emotional IQ, as well as being quite smart, and that I loved the way she puts things together, how she connects the dots.
"That was a side of her I really did enjoy playing. She's always trying to work out the puzzles and the riddles. It felt like she was troubled. There was a turbulence to her that she was trying to resolve, and some of that alludes to this backstory, this family stuff that she's really trying to dig away at and stir up and work it out. And a recurring feeling when I was playing her is that she's often preoccupied by trying to straighten wiggly lines. She just wants things to be ordered and they're not, and it drives her mad. She wants all her ducks in a row and she knows life isn't like that, and she has to deal with that knowledge that she knows that life can't be like that, but it is what she would like."
Which made me wonder aloud if Kerry thought Pearl's need or compulsion to have things neat and orderly is for the sake of giving herself some sort of emotional stability.
"Yeah, I think so. I think that neat and orderliness is not in terms of her physical environment, it's her mental health. She just wants to organize her mind. And yeah, that is so that she can be a better mother for her son and raise him on her own. When people are single parents, they do just have to get on with it. They're both the breadwinner and the homemaker and the good cop/bad cop at home; they've got a lot of roles to play. And I think she realizes that she can only get through her life by just controlling things. She is a bit of a control freak, and I think that's what makes it interesting, because we witness her slowly unraveling across the six. Things come up for her. I mean, I don't want to have to lean too hard on the metaphor of the sea, but the things that wash ashore, that she would rather weren't, but she knows she needs to deal with them, and she knows that if she doesn't deal with them, she can't move on in her life."
Quite a bit happens in the first two episodes, so it'll be interesting to see what else crops up.
"Yeah, I think you'll really enjoy it, coz the stuff that comes up is really — I don't know how to explain it. I just find it fascinating that families can be close and loving and care deeply about each other, but that sometimes they make a decision to keep secrets in an effort to protect each other. But actually sometimes those secrets just will out, and that's what we kind of witness in the show."
Speaking of an effort to protect each other, but from a different context, the cast and crew went to some major lengths to do that during filming, as it occurred during lockdown in England due to the Covid-19 pandemic.
"[Filming during lockdown] was bizarre. It was just so bizarre. And also we filmed during our second lockdown, so I'd already done a lockdown where I'd been at home, homeschooling my kids, you know, living this odd life where we were just in all the time. We got closer and found a tempo and a way of life that we all had to, you know, where you adapt to that. And then suddenly I was on this shoot and I was working every day and I was away from home and I was immersed in a job. And Whitstable itself was in lockdown, in deep lockdown, in fact, because Kent was a worrying spot for a while. And everything was shut. Obviously we were filming safely. I felt very looked after and safe, but everything was shut. We had that town pretty much to ourselves. There was even concern that it's not gonna look real because there's no one on the streets at all…

"I think in summer — I've been to Whitstable before but I've never been in peak season, but I think in summer it's absolutely packed. So we wouldn't have been able to film, I don't think we realistically would have been able to shoot this show in the summer months, because you just wouldn't be able to get the shots."
They also shot during the winter. Was Kerry freezing? And what about shooting the scene in which Pearl is in the water?
"Yeah, we were freezing. It was absolutely freezing. I wore a lot of thermals…

"[The scene in the water] was insane. That bit was insane… I had a wet suit on under my clothes, but actually, it was kind of by the by, because I had a coat on. It was ridiculous — I was soaked and freezing cold," Kerry said laughingly.
So, pandemic: check. Freezing cold weather: check. Were there any other challenges during production?
"No, we were very looked after and it was all pretty smooth. I mean, the lockdown had its own challenges for the first two blocks, so episodes one to four. And then in January it got worse. The pandemic got worse, and so we went into a much deeper lockdown and the rules got much stricter in January, and we did lose a few locations. We had to rethink some of the storylines on the back of the locations needing to be altered and stuff like that. So it did become really challenging. There was, at one point, when Boris Johnson made a new announcement on January the 4th, I was worried that we were going to have to postpone and that we were going to have to hold filming and come back to it, which did happen to a lot of productions over the year. It wouldn't have been unheard of, but we did keep going."
Did storylines change due to location changes?
"No, we managed to be able to make it work, but there were things that we had to — like we lost — there were a few scenes that were supposed to be shot in pubs and stuff like that, and that was unfortunate that we couldn't use those locations. It just wasn't legal to do that, so we just had to move things outside and shoot socially distanced and stuff like that. And I'm amazed. I've seen most of [the series] now and honestly you can't tell. It's so incredible what these production companies can achieve and what brilliant camera operators and directors — it's extraordinary, really. But you can't tell, or I don't think you can tell."
I couldn't tell. Lockdown didn't even occur to me when I was watching the screeners, and I'm guessing folks won't be able to tell the impact the pandemic had on the production when watching the show, either.
Whitstable Pearl opens with Pearl finding the body of her friend, Vinnie, in the water. The next day, the newly-arrived McGuire questions her about it and why she believes Vinnie was the victim of foul play and not an accident. Soon thereafter, Pearl discovers another dead body — the victim of either murder (probable) or suicide (unlikely). The two men knew each other, so if their deaths are connected, Pearl and Mike must find the link.
In the second episode, there appears to be a modern-day Robin Hood in Whitstable, as certain locals have recently received large sums of cash from an anonymous gift-giver. As Pearl wonders who their generous benefactor could be, she is hired by another DFL (down from London) to find a culprit while Mike and DS Nikki Martel (Sophia Del Pizzo, It's Always Sunny in Philadelphia) investigate who attacked an estate agent.
While the series is set in England, Whitstable Pearl has a Nordic noir vibe and sensibility about it — with its layered storylines, slow-burn pace, moody atmosphere, flawed characters, and themes related to social issues and injustices. (A bit like Wallander, only set on the southeast coast of England instead of the southern coast of Sweden.) The first two episodes are quite intricate and absorbing, and one scene in the series opener affected me in such a way that, as I told Kerry, "My heart was beating out of my chest during that scene."
Here is an exclusive clip from the first episode, "The Free Waters."
Whitstable Pearl, an Acorn TV Original series, will make its exclusive worldwide premiere tomorrow, Monday, May 24, 2021, exclusively on Acorn TV — a day-and-date debut across Acorn TV internationally in the US, Canada, UK, Australia, and New Zealand.
__________________
As an affiliate of Amazon and other companies, ads & affiliate links on this blog allow us to earn income from qualifying actions and purchases (at no extra cost to you).

Share this post/page.

Interview: Kerry Godliman Talks New Acorn TV Mystery Series 'Whitstable Pearl'