The North American premiere of Grace, the new BritBox Original crime thriller series starring John Simm and Richie Campbell, happens tomorrow.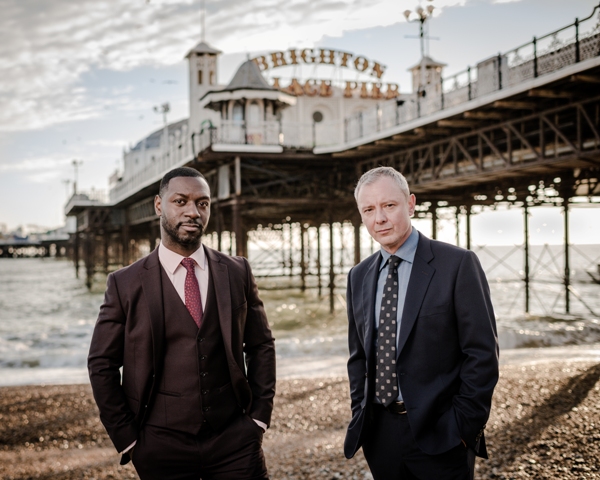 Two stories in Peter James's best-selling "Roy Grace" crime novels have been adapted for the British crime thriller miniseries Grace, both of which are written by Russell Lewis (Endeavour, Inspector Lewis) and star John Simm (Life on Mars, Doctor Who, Trauma) and Richie Campbell (The Frankenstein Chronicles, Small Axe, Wisting).
The first stand-alone feature-length adaptation is "Dead Simple."
Present-day Brighton. Detective Superintendent Roy Grace (John Simm) is not doing well career-wise. Although he is a 25-year veteran with the police force and a brilliant investigator, his unorthodox methods, including consulting a medium for his criminal inquiries, have landed him in hot water with his superiors on multiple occasions. So he's been relegated to re-examining dusty old cold cases. Grace's troubles don't end when he leaves work, either. He is haunted by the disappearance of his beloved wife, who went missing six years ago. On his 40th birthday.
By contrast, Michael Neward (Tom Weston-Jones, Dickensian) is on top of the world. A "local boy made good," he is a successful property developer in Brighton, about to be married to the beautiful Ashley Haynes (Alisha Bailey, Save Me). To celebrate his upcoming nuptials, he and his mates set off for his stag do; the only person missing is Michael's best mate, Mark Warden (Matt Stokoe, Jamestown), who can't make it back to Brighton in time to join them.
In the aftermath of the event that took the lives of Michael's friends, Detective Sergeant Glenn Branson (Richie Campbell) is puzzled. Something doesn't seem right to him about this case: How could Michael simply vanish? Other questions follow. Is he alive or dead? Is he injured? Did he wander off in a trauma-induced daze? To get answers, Branson enlists the help of his old friend and colleague, Roy Grace, knowing that Grace will give the case his all.
Which Grace does in his capacity as an unofficial consulting detective working alongside Branson and Branson's team, including DS Bella Moy (Laura Elphinstone, Chernobyl), DC Emma Jane "EJ" Boutwood (Amaka Okafor, The Split), and DC Nick Nicholl (Brad Morrison, National Theatre Live: Twelfth Night). Their objective is to find Michael, hopefully alive. But they don't have a lot to go on, so Grace pays a visit to Harry Frame (Adrian Rawlins, The White Princess), the medium, with a skeptical Branson in tow, to see if Harry and his pendulum can help them to locate Michael. However, what Harry shares doesn't make sense to them — and their visit to him doesn't make ACC Alison Vosper (Rakie Ayola, Shetland) happy at all, to put it mildly. Yanked off the case by his absolutely livid ACC, Grace has put his job, his career, in peril.
Yet still he persists, because finding Michael could mean saving the man's life. If he isn't dead already.
Before all is said and done, there will be more victims connected to the case, each one found as lifeless as the men found dead at the start of this mystery.
There are some intense scenes in Grace: Dead Simple, which had me holding my breath, my heart racing, and the voice inside my head screaming. During others, I exclaimed fewer expletives and felt fewer visceral reactions, but I could still hear myself saying "omigawd." And although a key event in the story seemed a bit over the top, I reminded myself that truth is often stranger than fiction, and who knows, something similar to or exactly like it could very well have happened in real life.
None of those scenes featured Roy Grace, a character I liked from the get-go. He is a sympathetic character — a confused and grieving husband who is advised to let go of his missing wife, even though he has nothing concrete that could give him closure and allow him to let her go. (Can a person will themselves to do this?) He's also a dedicated detective who puts the sanctity of life and the delivery of justice ahead of the woo-woo factor and potential backlash when it comes to the non-traditional, and dare I say non-violent, methods of investigation he's known to use. Ditto liking his friend Branson, a family guy, married with two kids, that Grace (probably) wishes he was (he hasn't said), and a friend who trusts Grace and Grace's investigative acumen enough to bring the guy on his case and put his own career at stake in the process.
It's a good story, one that I watched and enjoyed from start to finish without looking for a distraction elsewhere.
Featuring in this episode are Cian Binchy (The Level), Maggie O'Neill (Shameless), and Rebecca Scroggs (Scarborough).
Grace: Dead Simple premieres in North America tomorrow, Tuesday, April 27, exclusively on BritBox and its digital channels, including BritBox on Amazon Channels.
The next adaptation, Grace: Looking Good Dead, arrives on BritBox on May 4.
__________________
As an affiliate of Amazon and other companies, ads & affiliate links on this blog allow us to earn income from qualifying actions and purchases (at no extra cost to you).

Share this post/page.

Grace: Dead Simple: Crime Thriller Set for North American Premiere