The wait is nearly over for the North American premiere of Bloodlands, the highly-anticipated new Northern Irish crime thriller starring James Nesbitt.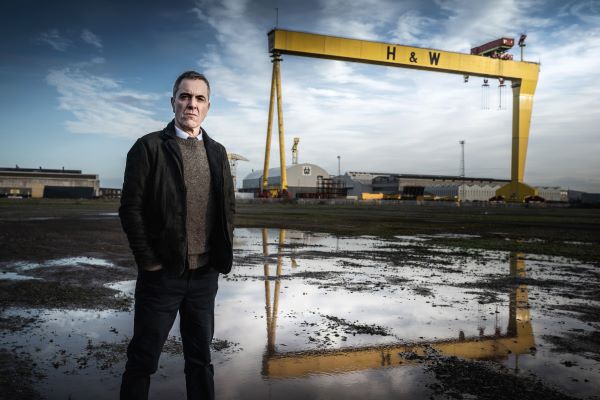 Northern Irish noir thriller Bloodlands stars Golden Globes® and BAFTA awards nominee James Nesbitt (The Missing, Cold Feet) as DI Tom Brannick, a single father and a detective with the Police Service of Northern Ireland (PSNI) in Belfast. He has been a cop for more than twenty years, and was in the early days of his career at PSNI's predecessor, the Royal Ulster Constabulary, when the Good Friday Agreement was signed, bringing an end to the three decades of sectarian conflict and violence in Northern Ireland known as The Troubles.
But killings continue in present day County Down, albeit not for the same reasons.
In the series opener, Brannick is called to the scene of an SUV being pulled out of the Strangford Lough. The vehicle's owner is a former member of the IRA. When Tom's partner, DS Niamh McGovern (IFTA winner Charlene McKenna, Vienna Blood, Ripper Street), shows him a postcard found inside the SUV, he turns a whiter shade of pale — the image immediately triggers one thought: that of an infamous cold case with deep personal significance for Tom.
As it turns out, the vehicle's owner isn't dead but abducted, so Tom and Niamh are on the hunt for both the kidnapper and the abductee. And following Brannick's unofficial meeting with his one-time friend, DCS Jackie Twomey (IFTA nominee Lorcan Cranitch, The Dig, Ballykissangel), about the crime and its possible connection to the cold case, Twomey pulls a fast one and takes over as Brannick's boss.
Twomey is insistent that anything and everything related to "Goliath" — the nickname of a legendary assassin — be left in the past, but Brannick won't let it go. He believes Goliath was a cop and the person behind the mysterious disappearances, likely murders, of several people in the months leading up to the Good Friday Agreement — including his wife. Despite Twomey's arguments, Tom and Niamh see it as obvious that the kidnapper orchestrated the crime, along with the postcard, in order to get the police to re-open the cold case.
So Tom and Niamh do. Sort of. Without Twomey's approval, they conduct their own inquiries for the cold case while officially investigating the kidnapping and searching for the culprit. This leads them to the relative of one of the people who vanished, and they learn from him new information that turns out to be vital.
But soon after Tom and Niamh discover critical evidence, they are effectively removed from the case.
Meanwhile, Brannick's daughter, Izzy (Lola Petticrew, Come Home), a third-year med student, is playing matchmaker for her dad and Tori Matthews (Lisa Dwan, Top Boy), a trauma consultant and a lecturer for one of her classes. Izzy also becomes a victim related to Tom's investigation…
Each of the two episodes made available to the press by Acorn TV ended with a cliffhanger, so I am waiting with bated breath for the next one to arrive. So far Bloodlands is a suspense-filled ride with heart-stopping moments and a serious I-did-not-see-that-coming scene. It's easy to get why the show has been a ratings hit for BBC One.
But the series is about more than the cat-and-mouse game between Team Brannick-McGovern and their unknown opponent. It's about the deep scars left in Northern Ireland by The Troubles and the actions (or inaction) people will take to maintain peace here, and about getting justice and getting closure.
Nesbitt is as awesome as ever as Brannick, and McKenna and Cranich are right up there, too. And I expect we'll be hearing more about — and more from — series creator-writer Chris Brandon (Red Rock) in the near future.
The four-part thriller costars Ian McElhinney (Game of Thrones), Chris Walley (The Young Offenders), Michael Smiley (Dead Still), Peter Ballance (Game of Thrones), Kathy Kiera Clarke (Derry Girls), and Susan Lynch (Save Me). It is directed by BAFTA winner Pete Travis (Omagh) and executive produced by Primetime Emmy® and BAFTA awards nominee Jed Mercurio (Bodyguard, Line of Duty), who is also the series' showrunner, alongside Jimmy Mulville (Episodes) and Mark Redhead (Bloody Sunday) for HTM Television and Tommy Bulfin for the BBC.
Bloodlands, an Acorn TV Original series, premieres in the US and Canada with its first episode tomorrow, Monday, March 14, exclusively on Acorn TV and its digital channels, including Acorn TV on Amazon. New episodes will debut weekly through April 5.
__________________
As an affiliate of Amazon and other companies, ads & affiliate links on this blog allow us to earn income from qualifying actions and purchases (at no extra cost to you).

Share this post/page.

Bloodlands: Suspense-Filled Northern Irish Crime Thriller Set for US & Canada Premiere