Netflix premieres psychological thriller Behind Her Eyes in roughly two weeks, and based on the trailer, the show has skyrocketed to the top of my must-watch list.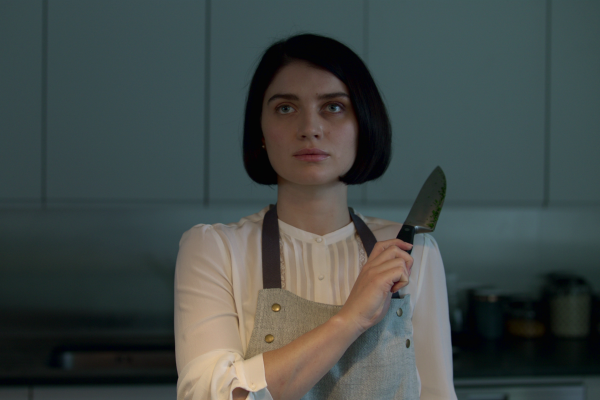 The book on which Behind Her Eyes is based — the international best-selling novel of the same name by Sarah Pinborough — is already at the top of my must-read list. Well, must-listen list. Given its popularity, likely boosted because of the upcoming series, there was not one e-book copy available at any of the three library systems that I belong to, so I downloaded the audiobook and intend to finish it before the show comes out.
Anyhoo, the psychological thriller concerns a relationship triangle. On side 1 is Louise (Simona Brown, Grantchester, The Little Drummer Girl), a single mum who begins an affair with side 2, aka David (Tom Bateman, Beecham House, Jekyll & Hyde), her new boss. She then meets Adele (Eve Hewson, The Luminaries, The Knick), David's mysterious wife, and develops a close bond with side 3.
What Louise doesn't realize, though, is that by sharing intimacies with both David and Adele, she is entangling herself a world of twisted mind games.
Behind Her Eyes, a Netflix Original series, premieres globally on Wednesday, February 17, exclusively on Netflix. (You can set a reminder for it now.)
__________________
As an affiliate of Amazon and other companies, ads & affiliate links on this blog allow us to earn income from qualifying actions and purchases (at no extra cost to you).

Share this post/page.

Behind Her Eyes: Watch Netflix's Creepy Official Trailer for Its New Original Thriller