Ovation TV announced today its acquisition of the US broadcast rights to the second season of British thriller series Riviera.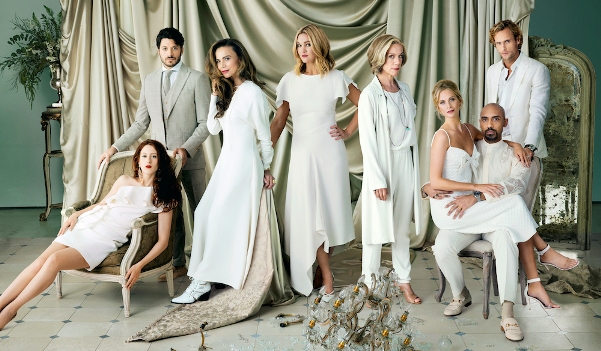 Per the announcement, made by Scott Woodward, EVP Programming and Production, Ovation TV, Season 2 of Riviera will air on Saturday nights during the network's Mystery Alley programming block.
Said Woodward:
"The first season of Riviera was a huge success and really connected with our audience; the series is a great combination of art and mystery…"
Starring Golden Globe nominee Julia Stiles (Dexter, Silver Linings Playbook), the ten-episode second season of Riviera picks up immediately from the shocking Season 1 finale (spoilers coming up) — with Georgina (Julia Stiles) focused on trying to get away with murder as she fights to retain her power within the Clios household and her position at the top of the elusive art world.
She must also contend with new arrivals: the Eltham family, who sail in to the shores of the Côte d'Azur with secrets of their own, including Lady Cassandra Eltham (Juliet Stevenson, Retribution), head of the prestigious dynasty.
Meanwhile, Georgina is reunited with her charismatic uncle (Will Arnett, 30 Rock), and we learn more about the troubled past she left behind in America. She also becomes entangled with a handsome and mysterious man (Grégory Fitoussi, Beecham House).
Also joining the cast this season are Poppy Delevingne (Kingsman: The Golden Circle), Jack Fox (Sanditon), and Alex Lanipekun (Troy: Fall of a City). Returning cast members include Oscar® nominee Lena Olin (Enemies: A Love Story), Roxanne Duran (Witnesses), and Dimitri Leonidas (Sinbad).
The second season of Riviera will air on Ovation TV in May 2021.
Stay tuned for updates.
__________________
As an affiliate of Amazon and other companies, ads & affiliate links on this blog allow us to earn income from qualifying actions and purchases (at no extra cost to you).

Share this post/page.

Riviera: Ovation TV Acquires US Broadcast Rights to Season 2 of Drama Thriller