The highly-anticipated premiere of BBC period drama A Suitable Boy on this side of the pond happens in a matter of hours…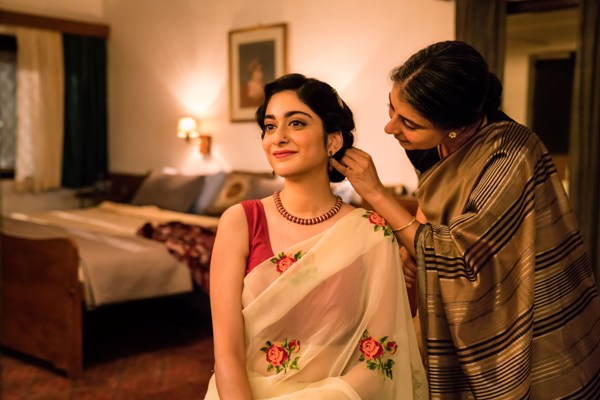 After watching the screeners for the first three episodes of A Suitable Boy, I have several questions. At the top of the list is: Who will Lata choose, if anyone?
Lata is the central female character of A Suitable Boy, a six-part adaptation of Vikram Seth's epic, best-selling novel of the same name. Played by rising star Tanya Maniktala (Flames), Lata Mehra is a spirited 19-year-old literature student at university in the (fictional) city of Brahmpur. We meet her at her sister's wedding.
With Lata's sister now married off, her mother, Rupa (Mahira Kakkar, Orange Is the New Black), has turned her attention to finding a suitable boy for Lata. But Lata feels the tug of independence more than matrimony, and is more inclined to follow her heart rather than tradition, particularly after she meets and falls in love with Kabir Durrani (newcomer Danesh Razvi), an ace cricket player at uni. Rupa, however, is having none of it, as the boy is Muslim and the Mehras are Hindu. Now Rupa is well and truly on a mission and plucks her daughter out of Brahmpur and into Calcutta to find a husband for Lata. It isn't long before Lata has not one but two new suitors: a published poet and a self-made shoe factory businessman. The cricketer, though, is still in her thoughts, if not in her arms. (But I have three episodes to go… so you never know!)
Meanwhile, Maan Kapoor (Bollywood star Ishaan Khatter, Beyond the Clouds), the directionless, devil-may-care younger brother of Lata's brother-in-law, continues to displease his father, Mahesh (Ram Kapoor, Bade Achhe Lagte Hain), the government's Revenue Minister. If Mahesh thought Maan couldn't do anything more outrageous than the stunt his son pulled on the Home Minister during the Holi celebration, he was wrong: Maan, engaged to be married to a girl from a good family, falls in love with another woman. An older woman. Not just any older woman but (gasp!) a courtesan. And not just any courtesan but the renowned Saeeda Bai (Tabu, The Namesake, Life of Pi). So Mahesh does what needs must to save his family's good name and his political reputation: he throws Maan out of his house — right into Saeeda's arms. The thing is, she has her own reputation to protect…
As Lata and Maan are coming into their own as young adults, they do so at a time when their country, India, is still coming into its own as an independent nation, having declared independence from Britain and been partitioned into India and Pakistan just four years earlier. Now, in 1951, India is set to have its first democratic general election. As citizens prepare to go to the polls to elect their first prime minister, Lata and Maan have crucial choices of their own to make — for their lives.
As someone who hasn't read the novel on which this series is based, I can't say how closely the adaptation by two-time Primetime Emmy® winner Andrew Davies (Little Dorrit, House of Cards) hews to the source material, although I think it's safe to say that there is much in the book's 1300+ pages that didn't make it into the show's six hour-long episodes. Be that as it may, there is still much to enjoy.
Starting with the stories of Lata and Maan, whose journeys into adulthood are fraught with conflicts based on religious and status differences, forbidden love (although set within different contexts), and more. But even before Lata's Juliet meets Kabir's Romeo, we meet Rupa, a Mrs. Bennet, if ever there was one, in post-British Raj India. As with the character in Pride and Prejudice, Rupa is by turns annoying, humorous, and endearing. And Saeeda is like a Siren from Greek mythology, whose beautiful singing (not to mention her stunning physical beauty) enchants Maan. (It remains to be seen if their relationship leads to his destruction.)
There's also the visual appeal — from the attractive actors and the beautiful settings (all filmed in India under the direction of two-time BAFTA Film Awards nominee Mira Nair, Monsoon Wedding, Salaam Bombay!), to the gorgeous, colorful costumes, which earned Arjun Bhasin, the show's costume designer, a Royal Television Society, UK Awards nomination for Costume Design – Drama.
All that, and I'm only halfway through the series, with the second half beckoning, because this curious mind wants to know, who will Lata choose?
A Suitable Boy premieres in the US and Canada with its first two episodes tomorrow, Monday, December 7, exclusively on Acorn TV and its digital channels. New episodes will debut weekly through January 4, 2021.
__________________
Ads & affiliate links on this blog allow us to earn income from qualifying actions and purchases (at no extra cost to you).

Share this post/page.

A Suitable Boy: Engaging Period Drama Set for US & Canada Premiere