Ovation TV, America's only arts network, has announced the start date for crime thriller The Fall to join its Mystery Alley lineup.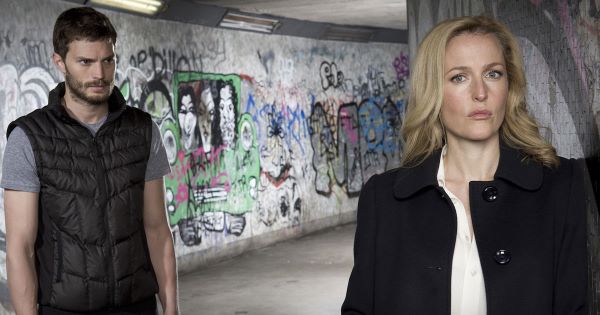 Following details about political thriller Secret State and other titles being added to Mystery Alley in September, Ovation TV has announced that the critically-acclaimed, award-winning series The Fall will begin airing on Saturday, October 10, at 7 PM ET / 4 PM PT.
The Fall stars Gillian Anderson (The X Files, The Crown, Sex Education) as Detective Superintendent Stella Gibson, a senior investigating officer with the Metropolitan Police in London, who is seconded to the Police Service of Northern Ireland in Belfast to support the local police in catching a serial killer. It is revealed from the outset that the perpetrator is Paul Spector (Jamie Dornan, "Fifty Shades" trilogy), a family man and bereavement counselor who is also a serial predator who preys on women in and around Belfast.
Season 1 (all times below are 7 PM ET / 4 PM PT)
Episode 1 "Dark Descent" — Saturday, October 10 — When a murder in Belfast remains unsolved, Gibson is brought in to catch the killer.
Episode 2 "Darkness Visible" — Saturday, October 17 — Gibson's worst fears are realized as Spector's murder spree in Belfast continues, and a reckless decision has Gibson facing some very real consequences.
Episode 3 "Insolence & Wine" — Saturday, October 24 — Gibson takes control of the hunt for the serial killer, and the realization that his perfect kill is tainted pushes Spector to look for his next victim.
Episode 4 "My Adventurous Song" — October 31 — When Eastwood's (Stuart Graham, The Frankenstein Chronicles) investigation into Olson's (Ben Peel, Alex Rider) murder throws open some uncomfortable truths for Burns (John Lynch, The Terror), Gibson comes under increased pressure in her hunt for Belfast's killer.
Episode 5 "The Vast Abyss" — Saturday, November 7 — The killer's latest attack gives Gibson renewed impetus, and as the net appears to be closing in, Spector makes a dramatic confession and a decision that binds his fate to Gibson.
Season 2 of The Fall will start airing Saturday, November 14 — the week after Season 1 concludes — and Season 3 will arrive on Ovation TV in the first quarter of 2021.
All episodes will be available on demand at ovationtv.com/watch and via the Ovation NOW app.
__________________

Share this post/page.




Outbound links on this page include non-affiliate links and affiliate links; the latter allows us to earn income from qualifying actions.
The Fall: Ovation TV Sets Date for Crime Thriller's Debut in 'Mystery Alley' Lineup