The internationally-acclaimed Murdoch Mysteries returns to Ovation TV with its latest season, which includes the series' milestone 200th episode!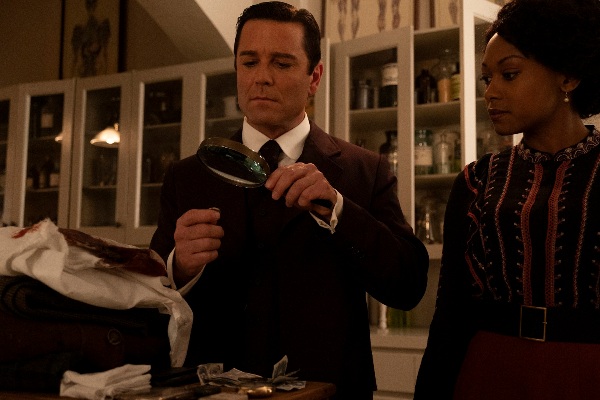 That Ovation TV picked up the latest season of Murdoch Mysteries is fabulous news unto itself. What makes it even better is the scheduling: Season 13 premieres on Ovation on Saturday, February 1, with back-to-back episodes, followed by Murdoch double-headers every Saturday for the entire season.
Based on Maureen Jennings's popular "Detective Murdoch" series of novels, Murdoch Mysteries follows Detective William Murdoch (Yannick Bisson), a methodical detective who employs radical forensic techniques, from fingerprinting to ultraviolet light, while investigating murders in late 1890s and early 1900s Toronto. Murdoch also enlists the help and expertise of his lovely wife, Dr. Julia Ogden (Hélène Joy), as he and his colleagues, including Inspector Thomas Brackenreid (Thomas Craig), Constables George Crabtree (Jonny Harris) and Henry Higgins-Newsome (Lachlan Murdoch), and Detective Llewelyn Watts (Daniel Maslany), work tirelessly to tackle Toronto's toughest mysteries, from the serious and historic, to the comical and unusual.
In the new season, Murdoch demonstrates that he is still ahead of his time by inventing the "searchizer," an innovative device that measures facial features and matches them with existing police files. And his detective's sensibilities keep him suspicious about and distrustful of the coroner, Violet Hart (Shanice Banton). In other happenings, the station gets a new team member: Special Constable Robert Parker (Marc Senior, The Gourmet Detective), an African American former Pinkerton who helped solve a union murder after being a suspect.
Below is Ovation's schedule for Season 13's episodes. Each week the first episode airs at 7 PM ET / 4 PM PT, followed by the second at 8 PM ET / 5 PM PT.
Saturday, February 1
Episode 1 — "Troublemakers" — Murdoch investigates an explosion at a suffrage rally attended by Dr. Talbot (Claire Goose, The Coroner) and Julia, after a man dies.
Episode 2 — "Bad Pennies" — When a dockworker is shot, Murdoch pursues an elusive witness and learns anti-union thugs may be involved.
Saturday, February 8
Episode 3 — "Forever Young" — Murdoch investigates the bizarre murder of a young woman who disappeared a decade earlier yet somehow hasn't aged a day.
Episode 4 — "Prodigal Father" (directed by Yannick Bisson) — A death at an investment event leads Crabtree to the father he never knew and Murdoch to suspect the man may be culpable.
Saturday, February 15
Episode 5 — "Murdoch and the Cursed Caves" — An adventure in the woods turns scary when Murdoch, Ogden, Higgins, and Ruth (Siobhan Murphy) are stalked by a beast that killed two men.
Episode 6 — "The Philately Fatality" — When a stamp enthusiast is murdered, Murdoch wonders if it was for his collection of unique stamps or lovers.
Saturday, February 22
Episode 7 — "Toronto the Bad" — While moonlighting as a cab driver, Higgins (Lachlan Murdoch) finds a dead passenger in the backseat.
Episode 8 — "The Final Curtain" — An actor is killed during a play featuring John Brackenreid (Charles Vandervaart) and attended by Murdoch, Ogden, Crabtree, and John's parents.
Saturday, February 29
Episode 9 — "The Killing Dose" — After a young woman is critically injured from a fall, Murdoch and Ogden suspect her family is complicit.
Episode 10 — "Parker in the Rye" — When a whiskey baron and his family are murdered, Murdoch puts Parker (Marc Senior) in the cells with a hitman to see who hired him.
Saturday, March 7
Episode 11 — "Staring Blindly into the Future" (200th episode!) — Murdoch investigates the disappearances of Nikola Tesla (Dmitry Chepovetsky, Killjoys) and Marie Curie (Eva Placzynska, Titans) from a conference of 20th century innovators.
Episode 12 — "Fox Hunt" — When a body is found during a fox hunt, Murdoch and Inspector Brackenreid suspect a group opposed to the sport is responsible.
Saturday, March 14
Episode 13 — "Kill Thy Neighbor" — Suspicions fall on Murdoch when his unpleasant neighbor is murdered.
Episode 14 — "Rigid Silence" — When Murdoch and Ogden investigate a prison inmate's suspicious suicide, they discover rival gangs in the jail.
Saturday, March 21
Episode 15 — "The Trial of Terrance Meyers" — When Terrence Meyers (Peter Keleghan) faces charges of treason, Murdoch and Ogden are named as accomplices.
Episode 16 — "In the Company of Women" — Ogden and Effie (Clare McConnell) try to untangle the death of a hair salon owner that occurred outside Murdoch's jurisdiction.
Saturday, March 28
Episode 17 — "Things Left Behind" — Murdoch suspects a colleague has ties to a murder, Ogden flirts with danger, and Crabtree meets an intense fan.
Episode 18 — "The Future is Unwritten" — After a shocking death, Murdoch is convinced someone close to Station House No. 4 is involved.
Mark your calendars!
__________________

Add your comments on our Facebook and Twitter pages.
Share this post/page.

Outbound links on this page include non-affiliate links and affiliate links; the latter allows us to earn income for qualifying purchases and actions made through the links.
Murdoch Mysteries: Season 13 of Hit Canadian Series Debuts on Ovation TV in February