The new year arrives in less than a month (!) and with it comes the premiere of the new season of international sci-fi action-adventure megahit Doctor Who. Yay!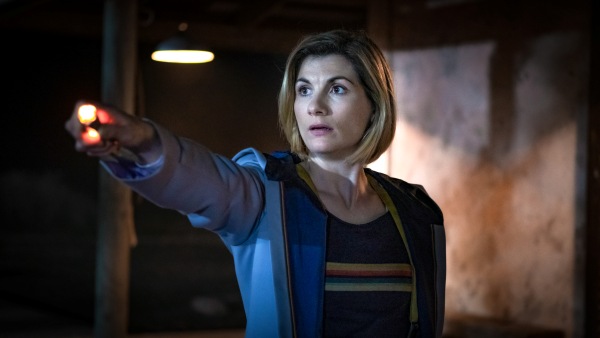 Jodie Whittaker (Broadchurch, Trust Me) returns for her second season as the Thirteenth Doctor when the twelfth season of Doctor Who premieres on New Year's Day 2020 on both sides of the pond — in the US on BBC America and in the UK on BBC One.
Also back are Tosin Cole (Hollyoaks), Mandip Gill (Love, Lies and Records), and Bradley Walsh (Law & Order: UK) as the Doctor's friends — Ryan, Yasmin, and Graham, respectively.
Joining them in the new season are guest stars Stephen Fry (A Bit of Fry and Laurie, Jeeves and Wooster), Sir Lenny Henry CBE (Chef!, Broadchurch), Goran Višnjić (ER, Timeless), and Robert Glenister (Hustle, Law and Order: UK).
The new season opens with a blockbuster, action-packed, two-part story entitled "Spyfall," followed by eight more episodes that introduce terrifying new monsters alongside the return of some familiar but not-so-friendly faces. (Did somebody say Judoon?)
But wait, there's more!
BBC America has partnered with BBC Studios and Fathom Events to bring Doctor Who back to the big screen on Sunday, January 5. This one-day-only special event, featuring the premiere episode and an exclusive early unveiling of the second episode of the new season, will be simulcast to over 600 cinema screens nationwide. After the screening, audiences will be treated to a live Q&A with Jodie Whittaker, Tosin Cole, and Mandip Gill, transmitted from The Paley Center for Media in New York. Tickets and a list of participating locations will be available beginning Friday, December 6, at the Fathom Events website.
Stateside Whovians also will be able to enjoy Doctor Who for the entire week leading into premiere night, with a takeover event on BBC America full of seasons and specials with all the modern Doctors — Christopher Eccleston, David Tennant, Matt Smith, Peter Capaldi, and Jodie Whittaker — from Tuesday, December 24, through Wednesday, January 1.
And last but not least, BBC America will also debut the "lost episodes" of "The Macra Terror" as a special animated post-holiday treat on Thursday, December 26, at 9 PM ET/PT.
Viewers can also catch up on Doctor Who: Season 11 on BBCAmerica.com and the app, where Jodie Whittaker's full first season is now available. (Watch the first episode free with no login required.)
A co-production of BBC America and BBC Studios, Doctor Who is executive produced by showrunner Chris Chibnall and Matt Strevens.
Doctor Who: Season 12 premieres in the US on Wednesday, January 1, 2020, at 8pm ET/PT, on BBC America. Subsequent episodes will air Sundays at 8 PM ET/PT starting January 5.
__________________

Add your comments on our Facebook and Twitter pages.
Share this post/page.

Outbound links on this page include non-affiliate links and affiliate links; the latter allows us to earn income for qualifying purchases and actions made through the links.
Doctor Who: New Season Launches on New Year's Day 2020