Heads up, US Whovians. The lost Doctor Who story "The Macra Terror" is coming to telly.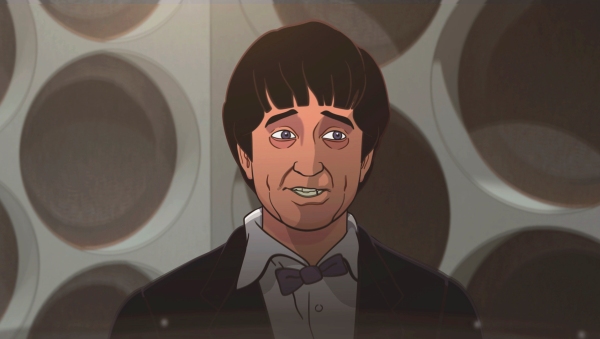 The Macra Terror is one of the numerous serialized Doctor Who stories whose complete master film recordings have been lost, presumably forever.
But with surviving film clips, photo stills, and audio recordings, combined with the skill of artists and the power of technology, The Macra Terror — which is from Classic Doctor Who's fourth season and stars Patrick Troughton as the Second Doctor — has been recreated as an animated special. (You might remember another one, The Power of the Daleks, which BBC America debuted back in 2016.)
In the four-part "Macra" story, The Doctor and companions Ben (Michael Craze), Polly (Anneke Wills), and Jamie (Frazer Hines) arrive on a human colony in the future. The atmosphere feels like a holiday camp, with the colonists looking happy and relaxed. But The Doctor is skeptical, sensing the fake nature of the society here, and his concerns are borne out: the colony has been overtaken and brainwashed by the Macra, a species of giant parasitic crab creatures.
BBC America will launch Doctor Who: The Macra Terror this fall, date and time TBA.
Stay tuned for updates.
__________________

Add your comments on our Facebook and Twitter pages.
Share this post/page.

The Macra Terror: BBC America Bringing Doctor Who Animated Special to Telly