Adrian Dunbar headlines the cast of Blood, a new Irish thriller that will screen in Ireland and the UK and in the US on Acorn TV.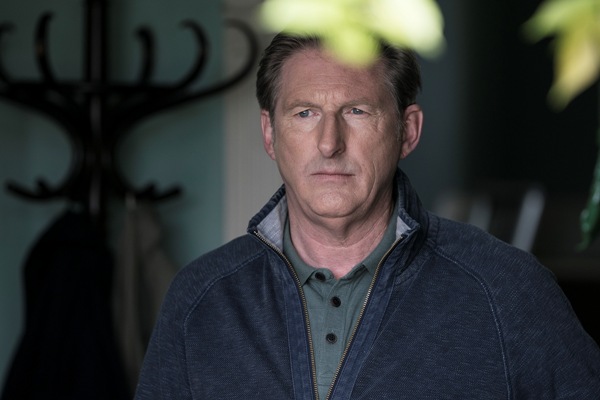 Blood is an intimate drama and psychological crime thriller about family, memory, and the impact the past can have on the present. It stars BAFTA nominee Adrian Dunbar (Line of Duty, Broken) and Carolina Main (Unforgotten, Granchester).
Cat Hogan (Main) is an isolated woman on the run from her past — a past she is forced to confront when the sudden accidental death of her mother, Mary (Ingrid Craigie, Striking Out), draws her back to the family she has spent the last ten years trying to avoid.
Ever the black sheep, Cat has an uncomfortable reunion with her family, which awakens sinister demons from the past and shines a suspicious light on her mother's death. However much she wants to believe Mary's death was innocent, Cat's suspicions start to mount against her father (Dunbar) when she begins to notice discrepancies in his stories.
Over the week following her mother's untimely demise, Cat tries to uncover the truth. But in Blood, the truth depends on who you ask.
The six-part thriller also stars Diarmuid Noyes (Borgia), Gráinne Keenan (Black Mirror), Cillian Ó Gairbhí (Corp + Anam), and Mark O'Regan (The Commitments).
Written by Sophie Petzal (Red Rock) and produced by Jonathan Fisher (Midsomer Murders), Blood is a Company Pictures drama in association with Element Pictures and all3media international for Virgin Media Television, Ireland, which commissioned the series and is expected to launch it locally this autumn.
In the UK, Channel 5 will debut the series on linear TV, with post-linear streaming via SVOD on Virgin and home entertainment media from Acorn.
Blood will premiere in the US and Canada as an Acorn TV Original series, exclusively on Acorn TV.
Stay tuned for updates.
__________________

Add your comments on our Facebook and Twitter pages.
Share this post/page.

Blood: Adrian Dunbar Stars in New Irish Thriller Co-Produced by Acorn Media