Mark your calendars and set your DVRs, cos BBC America will air a Doctor Who marathon as the lead-up to the groundbreaking debut of Jodie Whittaker's Doctor.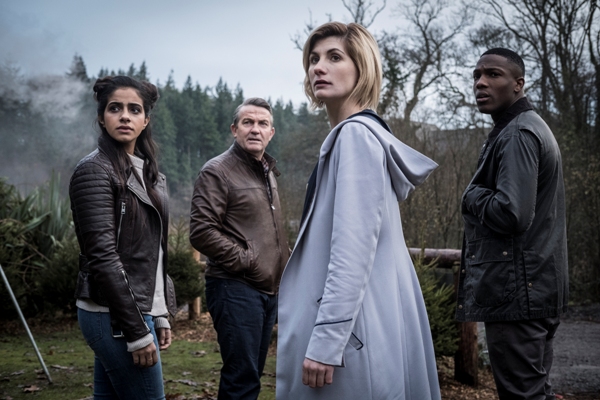 Arguably the most highly-anticipated British TV program premiere this year is that of Doctor Who, which returns to telly in October with the first-ever female Doctor, played by Jodie Whittaker (Trust Me, Broadchurch, The Smoke).
BBC America, which co-produces Doctor Who with BBC Studios, is going all-out in advance of the new season's global premiere by airing the "13 Days of Doctor Who" marathon — every episode from the first ten seasons of the reboot series, which starred Christopher Eccleston, David Tennant, Matt Smith, and Peter Capaldi as The Doctor.
[photoblocks id=6]
Photos (left to right, top to bottom): Christopher Eccleston, David Tennant, Matt Smith, Peter Capaldi — © BBC, courtesy of BBC America
The "13 Days of Doctor Who" begins Tuesday, September 25, at 6 AM ET/PT.
It culminates with the worldwide premiere of the new Doctor on Sunday, October 7 — timed to the UK broadcast (exact time TBA) — on BBC America.
The premiere will be followed by a special encore presentation in the show's new regular primetime slot on Sunday evenings.
Doctor Who: Season 11 is from the series' new showrunner, Chris Chibnall (Broadchurch, Life on Mars, Doctor Who), and costars Tosin Cole (Star Wars: The Force Awakens), Mandip Gill (Love, Lies and Records), and Bradley Walsh (Law & Order: UK) as Ryan, Yasmin, and Graham — The Doctor's new friends.
The first episode is "The Woman Who Fell to Earth."
__________________

Add your comments on our Facebook and Twitter pages.
Share this post/page.

13 Days of Doctor Who: Marathon Leads into New Season Premiere on BBC America