The explosions of color in nature make New England one of the most beautiful places to be during the fall. For folks who can't get there, watch Autumnwatch – New England.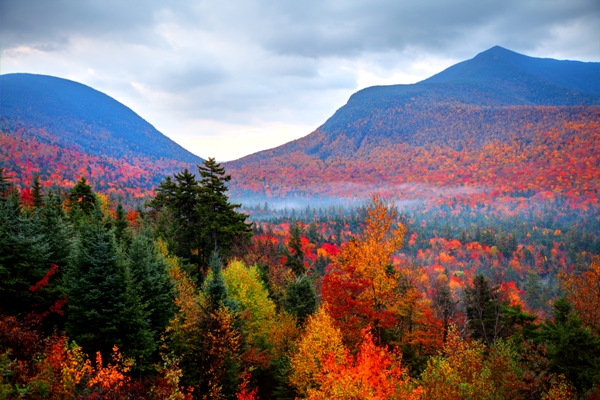 Autumnwatch, one of the long-running annual BBC natural history programs (alongside Springwatch and Winterwatch), is headed to America.
Co-produced by PBS and BBC Studios Natural History Unit, Autumnwatch – New England is a new three-part, multi-platform, live television event. Travel journalist Samantha Brown, BBC presenter Chris Packham, and wildlife cinematographer Bob Poole will host the program from alongside Squam Lake, New Hampshire.
Similar in format to PBS' Big Blue Live and Wild Alaska Live, the new series will include a mix of live feeds and pre-taped footage from across New England. Cameras will capture time-lapse changes of fall foliage; a quest for majestic moose in Maine; key wildlife species like squirrels, chipmunks, and turkey gangs as they invade backyards in preparation for the winter months; and critters like owls, bats, and bears that make the most of nighttime.
Unique to Autumnwatch – New England is the focus on cultural traditions and historical sites in addition to local wildlife and the colorful gold and red landscapes in the region that's best known for them. To accomplish this, local experts in food, wildlife, music, literature, and history will join the trio of hosts each night to showcase characteristics special to New England.
Audiences can expect to see segments that highlight Native American history and traditions, Halloween traditions, regional fairs, and the many farms that provide the region with its rich varieties of apples, pumpkins, cranberries, and maple syrups.
Autumnwatch – New England will air live in the US on Wednesday-Thursday, October 17-18, 8-9 PM ET, and Friday, October 19, 8:30-9:30 PM ET, on PBS. (Check your local listings)
Viewers in the UK can tune in to Autumnwatch – New England on BBC Two, where the series will be stripped across a week in October and hosted by Chris Packham, Michaela Strachan, and Gillian Burke. Check local UK broadcast schedules for air dates and times.
__________________

Add your comments on our Facebook and Twitter pages.
Share this post/page.

Autumnwatch – New England: BBC-PBS Natural History Live Event Set for October