Following its premieres of Keeping Faith and Hidden on this side of the pond, Acorn TV will debut its next Welsh TV series this autumn: the noir crime drama Bang.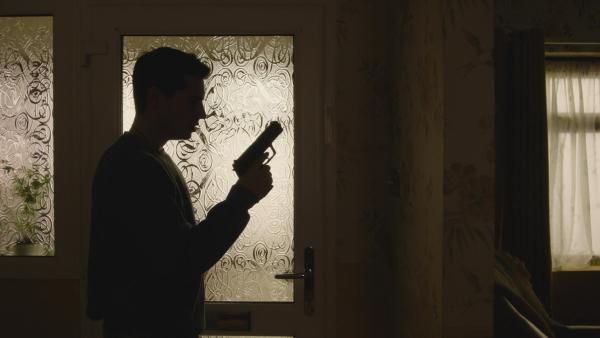 Set in the steel town of Port Talbot and the surrounding Afan Valley, Bang revolves around Sam Jenkins (Jacob Ifan, Hinterland, Cuffs), a loner who works for a shipping company while caring for his ailing nan in their estate housing.
His isn't an easy life, but it gets more complicated after Sam comes into possession of a gun, starts to break the law, and becomes entangled in a web of lies.
Sam's sister is Gina Jenkins (Catrin Stewart, Stella, Doctor Who), an ambitious police constable who makes it her mission to find the owner of the weapon.
The family saga plays out against the police investigation into the shooting death of a local businessman, which raises questions for Sam and Gina about their father's murder when they were young children.
Created and written by BAFTA Wales award winner Roger Williams (Tir), the bilingual Welsh/English series costars Gareth Jewell (Keeping Faith), Jack Parry-Jones (Our Girl), Suzanne Packer (Keeping Faith), Chris Reilly (Suspects), Nia Roberts (Hidden), and Sara Lloyd (The Indian Doctor), and features Gwyneth Keyworth (Hidden).
Acorn TV will premiere the eight-episode Bang in the US and Canada in October. Stay tuned for updates about the debut date.
__________________

Add your comments on our Facebook and Twitter pages.
Share this post/page.

Bang: Acorn TV to Launch Welsh Noir Crime Drama in US & Canada This Fall