Fire up your Hulu and laugh out loud to No Activity, the brilliant comedy from Australia that began streaming in the US today.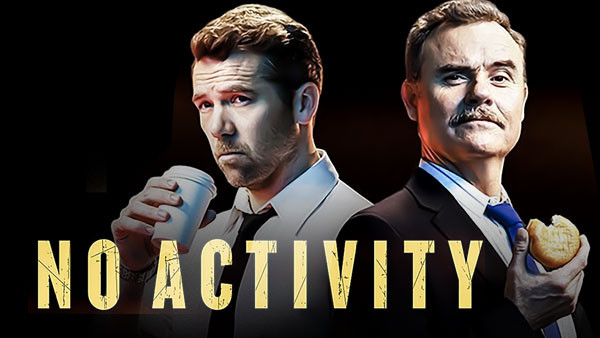 No Activity is about what happens when nothing's happening while cops and crooks are waiting for a massive illegal drug shipment to arrive in a Sydney dockyard.
On nightly stakeouts are detectives and best friends Hendy (Patrick Brammall, Glitch, Offspring, The Strange Calls), a young and ambitious copper, and Stokes (Darren Gilshenan, Janet King, Rake, The Moodys), basically a putz with a heart of gold.
With each "Car 72, no activity," viewers are in for the pair engaging in mundane chatter, reminiscent of the kind in Seinfeld, inside their unmarked squad car. Although neither mentions being the master of his domain, they do discuss… other stuff.
Ditto for the back-and-forth between Carol (Genevieve Morris, City Homicide, Blue Heelers), the dispatch officer with a son who has, um, interesting habits (yeah, let's go with that), and April (Harriet Dyer, Janet King, Love Child), a young cop reassigned to the dispatch team following a death by taser.
And then there are Jimmy (Dan Wyllie, The Code, Underbelly) and Bruce (David Field, City Homicide, Wild Boys) — two of the dorkiest and most lovable criminals you could want to meet.
Both the main cast and the guest stars, including Tim Minchin (Californication), Kat Stewart (Offspring), and Jake Johnson (New Girl), improv the LOL dialogue, some of which is rather creative.
There might be some confusion about No Activity, as two shows by that name made their stateside debuts today: the original comedy series from Aussie streaming platform Stan and the American remake from Will Ferrell and the folks at Funny or Die.
Not in question is how funny the original is. Check out Series 1 and 2 of No Activity, both of which are now streaming in the US exclusively on Hulu.
The third season of No Activity (AU) begins streaming Down Under a week from now, so fingers crossed it will arrive in the States in 2018.
__________________
Add your comments on our Facebook, Google+, and Twitter pages.
Share this post/page.

No Activity: Hilarious Aussie Comedy Premieres in the US