Put Rosehaven — an hilarious Aussie comedy filled with LOL humor — on your to-watch list. Then watch it when it premieres tonight. You're welcome. 🙂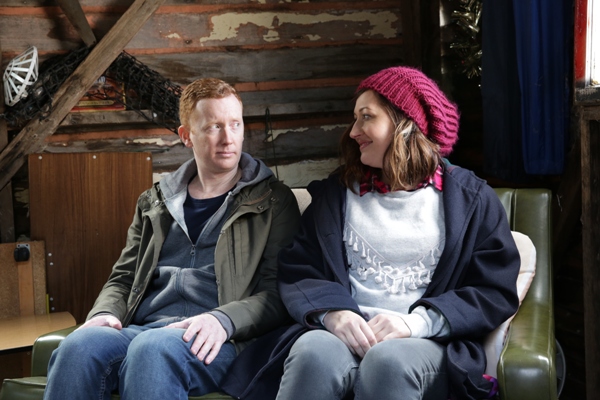 After watching the screeners for the first few episodes of Rosehaven, I had three thoughts:
First: It reminds me of Doc Martin, with its eccentric characters, gorgeous shots of the Tasmania (versus Cornwall) landscape, and laugh-out-loud humor delivered deadpan.
Second: Lead characters Daniel McCallum (Luke McGregor, Utopia, Please Like Me) and Emma Dawes (Celia Pacquola, Utopia, Offspring) are like the Felix and Oscar (of The Odd Couple) of Tasmania: wacky, infuriating at times, and lovable.
Third: It's really funny, I really like it. and I hope you enjoy it as much as I do.
Rosehaven is created and written by Pacquola and McGregor, who happen to be real-life best friends playing best friends (not necessarily fictional versions of themselves) in the Logie Awards-nominated series for Most Outstanding Comedy Program.
Daniel is a well-meaning, reserved, and angel of a guy who returns to his hometown of Rosehaven in rural Tasmania to help his mother with her real estate business while she's in hospital having back surgery. The locals remember "Danny," aka "Barbara's kid," and assume he's home because he "couldn't hack the mainland," and Daniel is quick to set them straight about his name preference and the actual reason for his return.
Emma is also well-meaning (in more devilish ways) but is Daniel's polar opposite in her gregariousness, outrageousness, and tendency toward impracticality and untruths. She turns up at his doorstep (actually his mum's), because her husband left her and their marriage during their honeymoon in Bali and she had nowhere else to go. (Read: Emma wouldn't go home, because then she'd have to tell her mum that her marriage was kaput before it even really started.)
So begin the pair's misadventures in the midst of small-town life in Rosehaven.
Clearly, the townsfolk don't think Daniel is all that and a bag of crisps (an adolescence spent as the target of bullies doesn't help), not even his mum Barbara (Kris McQuade, Wentworth, Home and Away) — a brusque, no-nonsense tough cookie who wants nothing more than for Daniel to clean the office and buy milk.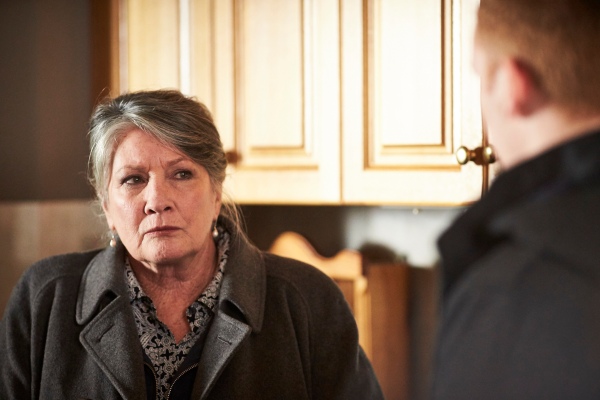 Discouraged but undaunted by Barbara not giving him anything more substantial to do, and plodding on after each of his post-hang-up "love you" good-byes to her, Daniel is resolved to be her right-hand company man in the short-term and to take over the business in the long.
In the meantime, though, he has to prove his mettle and deal with his overly-controlling mum, the townspeople and their quirks, and the often zany schemes of Emma (now his employee) while trying to make a (more-respected) name for himself. It ain't easy.
Rosehaven might be the only place on Earth where there's a 24-hour emergency butcher, and its Neighborhood Watch group doesn't do any monitoring. They do, though, insist that McCallum Real Estate get a new locksmith, because none of them trust Damien (David Quirk, Please Like Me) — known to be a thief and a hoarder — who took over his dad's business after the latter's retirement. (Note: Damien is my favorite supporting character.)
Meanwhile, Emma has been lying to her mum about still being in Bali, avoiding calls from her husband, and getting Daniel into one scrape or another, while Daniel's ex-girlfriend Grace (Katie Robertson, The Kettering Incident) is the only person who seems to be truly happy that he's home.
Rosehaven, a What Horse? / Guesswork Television production presented by Screen Tasmania, Screen Australia, the Australian Broadcasting Corporation, and SundanceTV in association with Film Victoria, returns to both Australia and US television with its second season next month.
Rosehaven: Season 1 premieres in the US tonight, Wednesday, September 27th, at 11 PM ET, on SundanceTV. Two back-to-back episodes will air each week, leading into the October 25th debut of Season 2, whose episodes will roll out in singles. All episodes will be available on sundance.tv the day after they air.
__________________
Add your comments on our Facebook, Google+, and Twitter pages.
Share this post/page.

Rosehaven: Wonderful, Quirky Australian Comedy Premieres in the US