What a way to start a new week! The news that the new season of Fortitude has been picked up for stateside viewers is welcome, indeed.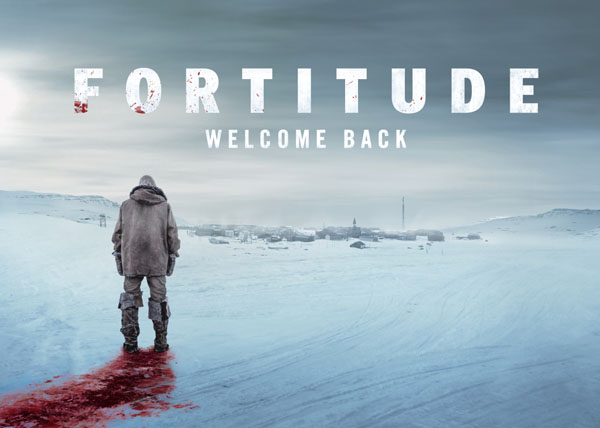 Since the demise of Pivot, the US cable channel that brought us the first season of Fortitude (as well as the Seasons 1-3 premieres of hit Australian dramedy Please Like Me and the British drama miniseries Capital), folks on this side of the pond have been wondering which American network, channel, or streaming service would screen Fortitude: Season 2.
Now we know.
Amazon Studios and Sky Vision announced today that Season 2 of the hit thriller will debut in the US on Prime Video as an Amazon Original Series.
Most of the original cast returns in the second season, including Richard Dormer (Game of Thrones) as Dan Anderssen, the sheriff of Fortitude; Sofie Gråbøl (The Killing) as Hildur Odegard, the Arctic town's mayor; Björn Hlynur Haraldsson (Trapped) as Eric Odegard, Hildur's husband and Fortitude's deputy sheriff; Luke Treadaway (Clash of the Titans) as scientist Vincent Rattrey; Sienna Guillory (Stan Lee's Lucky Man) as fellow scientist Natalie Yelburton; Mia Jexen (2900 Happiness) as Police Constable Ingrid Witry; Alexandra Moen (Strike Back) as PC Petra Bergen; Verónica Echegui (The Cold Light of Day) as hotel worker Elena Ledesma; Darren Boyd (Spy) as creepy schoolteacher Markus Huseklepp; and Ramon Tikaram (Jupiter Ascending) as taxidermist and shaman Tavrani Tavra.
Joining the cast are Dennis Quaid (Vantage Point), who stars as Michael Lennox, a fisherman and stepfather to Ingrid; Michelle Fairley (Game of Thrones) as Freya Lennox, Michael's wife and Ingrid's mum; Ken Stott (The Missing) as Erling Munk, a government functionary from the mainland; Robert Sheehan (Misfits) as Vladek Klimov, an electrical engineer and new arrival in Fortitude; Edvin Endre (Vikings) as Rune Lennox, Michael and Freya's teenage son; and Parminder Nagra (ER) as Dr. Sarinda Khatri, a medical doctor and scientist who runs her own lab at the Fortitude Arctic Research Centre.
(If you haven't watched Season 1, one of my favorite new series of 2015, know that you're entering spoiler territory below.)
Season 2 opens nine weeks after that insane (in a good way) Season 1 finale.
The residents of Fortitude, once hailed by Hildur as the safest place on earth until dead bodies started to pile up, are trying to come to terms with the horrors they experienced. Still missing and presumed dead is Dan, who, being consumed with guilt after shooting the woman he loved, disappeared into the wilderness. Eric has been desperately searching for his colleague and friend, leaving the policing to Ingrid and Petra and leaving the townspeople to wonder if he can fill Dan's shoes.
Then a body is discovered on the other side of town and Eric must step up and lead the investigation. As his own police team is trying to figure out who would have killed a man for no apparent reason, Dan — a violent, broken, ruin of a man, and wild to the point of being feral — suddenly reappears.
Meanwhile, Michael is struggling with both his fishing business and his wife's terminal illness, and he is willing to try anything to find a cure for her.
Fortitude is an Amazon Original Series in the US and Sky Original Production in the UK. It is produced by Fifty Fathoms (Marvellous), created and written by Simon Donald (Low Winter Sun), and executive produced by Donald, Faye Dorn (George Gently) and Patrick Spence (The A Word). Trevor Hopkins (Strike Back) and Susie Liggat (Doctor Who) serve as producers.
Fortitude: Season 2 is scheduled to premiere on Prime Video in the US later this year.
__________________

Add your comments on our Facebook and Twitter pages.

Share this post/page.

Fortitude: Season 2 with Dennis Quaid to Premiere in the US on Amazon Prime Video