Brokenwood, New Zealand. Where the locals are quirky, the country music is kickin', and corpses are found high and low (at least when they don't go missing).
True story: When I found out a new season of The Brokenwood Mysteries was coming to the US (and soon), the first thing that popped into my mind was "Happy," the Oscar®-nominated song by Pharrell Williams.
Nope, it's not one of the series' trademark country tunes (a genre I got hooked on thanks to the show's fab soundtrack), but happy is what I was and am, because I love this show.
Brokenwood is delicious escapism — red-herringed whodunits featuring small town folk with outsize personalities doing "dirty deeds (done dirt cheap"* — couldn't resist), and a trio of local detectives who bring wit, wisdom, and even a bit of whimsy to murder investigations.
Which brings me to Series 3.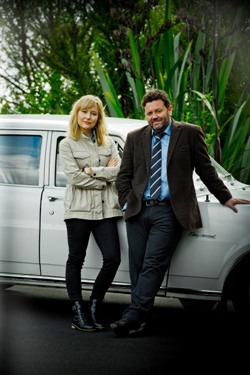 It opens with "The Black Widower," in which the wife and business partner of legitimate pub owner and not-quite-on-the-up-and-up tourist trap guide Ray Neilson (Jason Hoyte, Nothing Trivial) is found dead in Brokenwood Forest.
Enter Brokenwood's finest — corpse whisperer Detective Senior Sergeant Mike Shepherd (Neill Rea, Go Girls), good cop/bad coffee maker Detective Kristin Sims (Fern Sutherland, The Almighty Johnsons), and low man on the totem pole Detective Constable Sam Breen (Nic Sampson, Go Girls) — who investigate everyone and everything with a link to the case, from a rival tour operator to the Katipo, New Zealand's only indigenous venomous spider, to catch the killer.
"Over Her Dead Body" finds Brokenwooders mourning the passing of beloved local poet Declan O'Grady (Mark Mitchinson, The Hobbit trilogy). But sobs turn into shrieks after the coffin falls out of the hearse and the now-open casket reveals the corpse is that of an unknown woman. Discovering her identity is one thing; figuring out how the funeral home director (Kip Chapman, Top of the Lake) lost Declan's body is another. And then there's the matter of finding the killer…
Shepherd's 1971 white Holden Kingswood and dozens of other classic cars feature in "The Killing Machine." But unlike, say, Christine, none of them are possessed. Someone(s) amongst their petrol head owners might be, though, after not one but two dead bodies are discovered, including that of the Chairman of the Classic Car Restoration Society, right next to his El Dorado and with a lungful of gasoline.
And Sims wishes for a white Christmas during summer in Brokenwood, but instead gets a "Merry Bloody Christmas" when the mayor is found dead at home after his stint as Santa Claus in the annual holiday parade. His political rivals are all suspects, at least until the gruesome discovery of another corpse.
Pana Hema Taylor (Spartacus: War of the Damned) reprises his role as jack-of-all-trades Jared Morehu, as do Cristina Serban Ionda (Filthy Rich) as Gina, the Russian pathologist, and Colin Moy (Underbelly: Land of the Long Green Cloud) as Hughes, Shepherd's hot-yoga-enthusiast boss in Auckland.
Guest stars include Amanda Billing (Shortland Street), Ido Drent (Offspring), Christopher Hobbs (Home and Away), Rob Kipa-Williams (800 Words), and Emmett Skilton (The Almighty Johnsons).
The Brokenwood Mysteries: Series 3 premieres in the US starting Monday, 5 December 2016, exclusively on Acorn TV.
* Lyrics © Bon Scott, Angus Young, Malcolm Young (AC/DC)
__________________

Add your comments on our Facebook and Twitter pages.

Share this post/page.

The Brokenwood Mysteries: Series 3: As Good as Ever