The classic hit Britcom Are You Being Served? is getting a 21st-century reboot featuring an all-star cast, so longtime and new Brit TV fans can get your laugh on.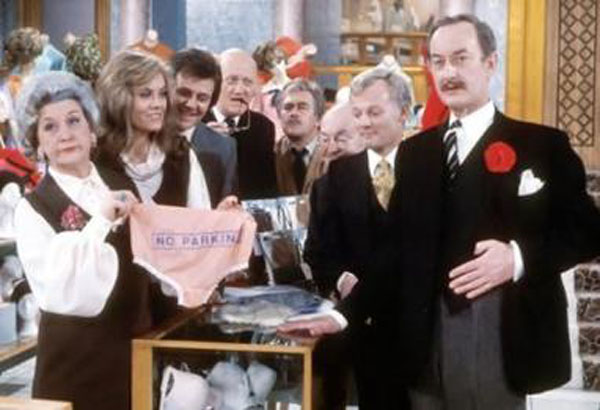 Are You Being Served?, one of the best-loved Britcoms on both sides of the pond and a staple of British TV programming blocks on public TV stations across the US, is returning for a one-off episode.
According to the BBC, the rebooted Are You Being Served? is "picking up where Jeremy Lloyd and David Croft's much loved comedy left off" to "bring Grace Brothers and some of the nation's all-time favourite sitcom characters, including Mrs Slocombe, Captain Peacock, Miss Brahms, and Mr Humphries, back to life with an all star cast."
The names of the new cast members have not been announced yet.
Set inside the Grace Brothers department store, the original Are You Being Served? ran for 69 episodes between 1972 and 1985, and starred Frank Thornton as Captain Peacock, Mollie Sugden as Mrs Slocombe, John Inman as Mr Humphries, Wendy Richard as Miss Brahms, and Nicholas Smith as Mr. Rumbold (all deceased with Smith's passing on 6 December 2015) — all of whom reprised their roles for the 1992-93 sequel, Grace & Favour, known as Are You Being Served? Again! in the US.
The reboot of Are You Being Served? follows that of another classic Britcom: Open All Hours. Its reboot, Still Open All Hours, for which original cast member David Jason reprised his role as Granville, has been hugely successful, having just completed its second season in January 2016.
If you're interested in being a part of the studio audience for the live taping of the Are You Being Served? one-off episode, visit the BBC website. You have until 11 AM BST on 22 February 2016 to enter the random drawing for free tickets.
__________________
Add your comments on our Facebook and Twitter pages.

Share this post/page.

Are You Being Served?: BBC Reboots Classic Britcom with All-Star Cast