Polly Hill, Controller of BBC Drama Commissioning, has announced that a new television adaptation of Howards End is amongst several new series being produced for BBC One.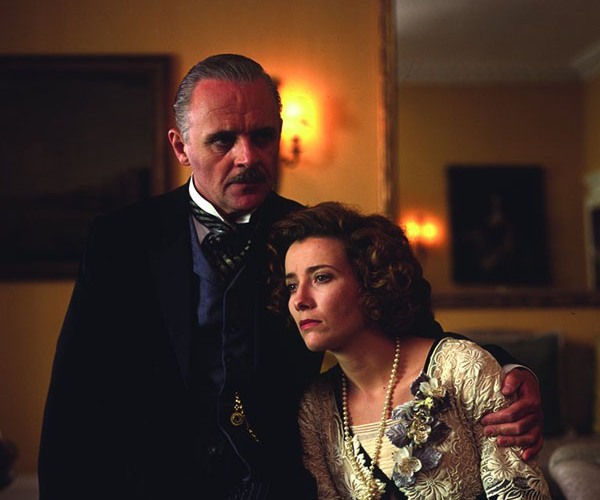 The BBC's first adaptation of Howards End aired 45 years ago, and it's been a quarter-century since the release of the Oscar®-nominated and BAFTA Award-winning Merchant Ivory film starring Anthony Hopkins and Academy Award® Best Actress winner Emma Thompson.
So, similar to Poldark, the BBC is introducing a new generation of telly viewers (and perhaps readers, too) to Howards End with its new series.
Many consider this of E.M. Forster's works, first published in 1910, to be his finest novel, and the board of Modern Library has deemed it one of the "100 Best Novels." The story explores the changing landscape of social and class divisions in turn-of-the-century England from the perspectives of three families: the intellectual and idealistic Schlegels, the wealthy Wilcoxes from the world of business, and the working-class Basts.
Pulitzer Prize and Academy Award-nominated screenwriter and playwright Kenneth Lonergan (You Can Count on Me, Gangs of New York) is adapting Howards End into the BBC's four-part, hour-long drama.
Said Lonergan:
"I'm very proud to have been entrusted with this adaptation of Howards End for the BBC. The book belongs to millions of readers past and present; I only have the nerve to take it on at all because of the bottomless wealth and availability of its ideas, the richness of its characters and the imperishable strain of humanity running through every scene. The blissfully expansive mini-series format makes it possible to mine these materials with a freedom and fidelity that would be otherwise impossible. It's a humbling and thrilling creative venture transporting the Schlegels, Wilcoxes and Basts from the page to the screen. I hope audiences will enjoy spending time with them as much as I do."
(As an aside, years ago I was privileged to have been invited to a special screening of the film at Lincoln Center, where I met a special guest: the late, great Lauren Bacall.)
Although the official BBC announcement didn't mention this, The Telegraph noted, "The drama will be created in partnership with an American broadcaster, with hopes that it will replicate the international success of Wolf Hall." Assuming said broadcaster is PBS, viewers in the US can look forward to watching Howards End as much as those in the UK.
Produced by Playground Entertainment, in association with City Entertainment and KippSter Entertainment for BBC One, Howards End is slated to start production in the summer of 2016.
__________________
Add your comments on our Facebook, Google+, and Twitter pages.
Share this post/page.

Howards End: New TV Adaptation of E.M. Forster Novel for BBC One