In three weeks, Phoenix will transform into Nerd Central when Arizona PBS joins forces with Phoenix Comicon for another PBS Nerd- and edutainment-filled long weekend. Allons-y!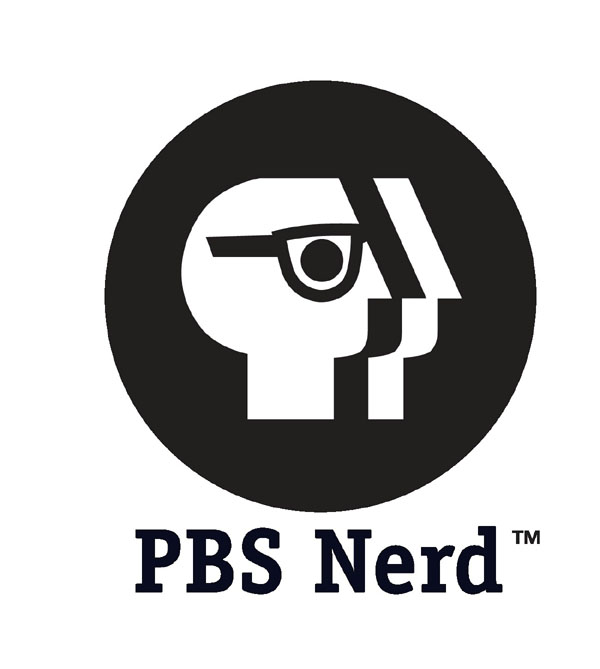 Phoenicians, public television enthusiasts, and fans of comics, sci-fi, braininess, and more, the time is fast approaching for you to get your cosplay on and neurons firing, because Eight, Arizona PBS (KAET) is partnering once again with Phoenix Comicon for four festive days of fandom, geekdom, and nerd-dom.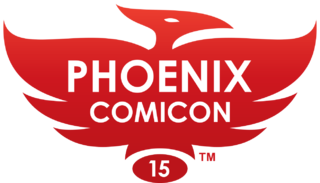 Phoenix Comicon, the Southwest's preeminent pop-culture event, happens this year from May 28th through the 31st at the Phoenix Convention Center, so join the fun in your best geek chic costumes, be they from anime, gaming, superhero comic books, fantasy and steampunk novels, or fan fave TV and film series, such as Sherlock, Game of Thrones, Thor, and the Avengers.
And get your celebrity groove on, too, cuz lots of nerd-tastic stars are making appearances. One notable of stage and screen that fans of PBS Masterpiece Mystery! series Case Histories
are sure to flock to is BAFTA, Golden Globe®, and International Emmy® Awards nominee Jason Isaacs, better known to legions of Harry Potter
fans as the evil Lucius Malfoy.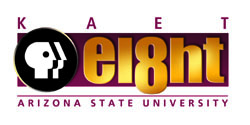 For muggles more inclined to use the wizardy of brains over wand-enabled brawn, Phoenix's PBS station is bringing its unique brand of smart, fun, and creative edutainment to Phoenix Comicon.
In partnership with PBS Digital Studios, Eight kicks off its second appearance at Phoenix Comicon with an exclusive Dungeons & Dragons-style role-playing game, hosted by Webby Award winner Mike Rugnetta of the popular online show PBS Idea Channel, on Saturday, May 30, at 6 PM.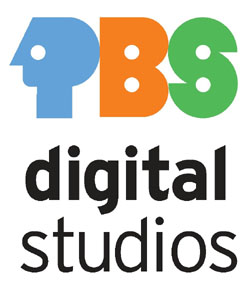 Rugnetta and fellow PBS Digital Studios YouTube stars, including Joe Hanson of It's Okay to Be Smart and Jamin Warren of PBS Game/Show, will cast themselves as a group of travelers on a quest to vanquish a knowledge-hating evil entity. Throughout the pursuit, the hosts will use their specific areas of real-life knowledge to solve in-game problems while interacting with members of the live audience.
"Last year was my first-ever real Comicon experience, and I discovered there was a sense of excitement but also of community," says Rugnetta. "The motivation for our live D&D game is to invite everyone to be a part of the Digital Studios family by playing together. Hopefully the quest will accomplish the same outcomes as a question-and-answer panel, but with the kind of fun context and intimacy you can only experience while playing a game with someone."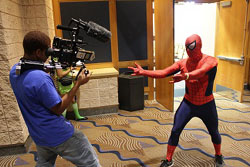 Arizona PBS will also unveil a PBS Nerd-inspired booth on the convention floor at Phoenix Comicon, featuring a selfie photo station where guests may capture themselves in their geek garb, whether it's the 11th Doctor's fez, Princess Leia's hair, or Spider-Man's spandex.
And just for readers of The British TV Place, here's your first look at the exclusives that Eight has for you at Phoenix Comicon 2015!
During the Con, Eight encourages public media crusaders to collect…
1. A set of exclusive 2015 limited edition PBS Nerd/Phoenix Comicon pins…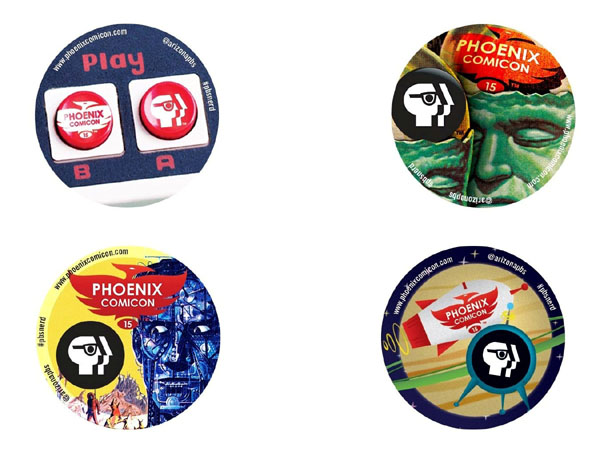 And/or…
2. A PBS Nerd t-shirt (in new colors!).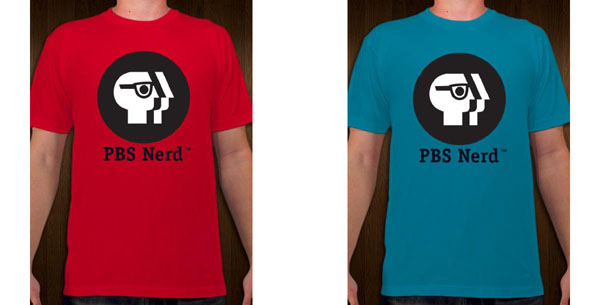 The co-branded buttons and the tees, both featuring the PBS Nerd logo created by designer Mark Harms and Bob Beard, Promotions Coordinator and Nerd-in-Chief for Arizona PBS, will be available at Eight's #PBSNerd booth for a donation to the station in support of its public programming, community events, and educational initiatives.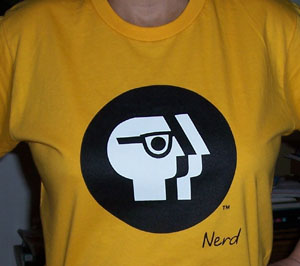 After Phoenix Comicon, the t-shirts will be available (in red, teal, and yellow) to the general public at this KAET PBS Nerd webpage, where the tee is your thank-you gift for a one-time donation. (That's me in my tee, which I got last year! ->)
"As an organization committed to educational programming that inspires curiosity and wonder, Eight is thrilled to return to Phoenix Comicon for another year," says Beard. "Everyone's a nerd for something, and we're happy to share in this celebration of knowledge and enthusiasm."
Just so you know, Bob isn't just Eight's Nerd-in-Chief. He is also a TED speaker, having given a TEDx Talk called "Making Nerd Culture Open-Source."
But wait, it gets better. He's a nerd who studies nerds, too. To wit: his graduate thesis, entitled Walking the Walk: The PBS Nerd Walk as the Site for Alternative Performances of Nerd Identity in a Geek Chic Society. (Hmm, if Bob gets his doctorate, he'd be a Doctor of Nerdology. Has a nice ring, that.)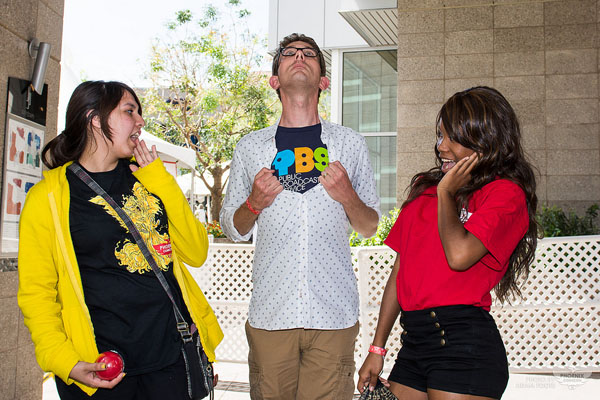 While Beard and Arizona PBS originated the PBS Nerd Walk for geeks, nerds, brainiacs, and public TV fans in the Phoenix market in 2011, other PBS member stations in "Michigan, Oklahoma, New York, Idaho, California and Florida" have jumped on the nerd bandwagon, such as WGVU Public Media in Grand Rapids. And WEDU in Tampa brainstormed and hosted a community Retro PBS Nerd Night.
For PBS viewers, Sherlockians, Whovians, and fellows in smarts, geek- and nerd-dom in other cties who would like to have PBS Nerd activities, too, consider reaching out to your PBS station to request that they host a PBS Nerd Walk, retro night, or some other fun, nerdy festivity that syncs with the local community culture. To find the station that serves your area, visit American Public Television.
And for more information about Eight and Phoenix Comicon, visit www.azpbs.org/nerd and www.phoenixcomicon.com.
__________________
Add your comments on our Facebook, Google+, and Twitter pages.
Arizona PBS + Phoenix Comicon x #PBSNerd = Geekorama (with Exclusives!)