No amount of grumpiness on the part of Dr. Martin Ellingham can keep Doc Martin fans, a.k.a. Clunatics, away from the hit comedy-drama that is now filming its seventh series.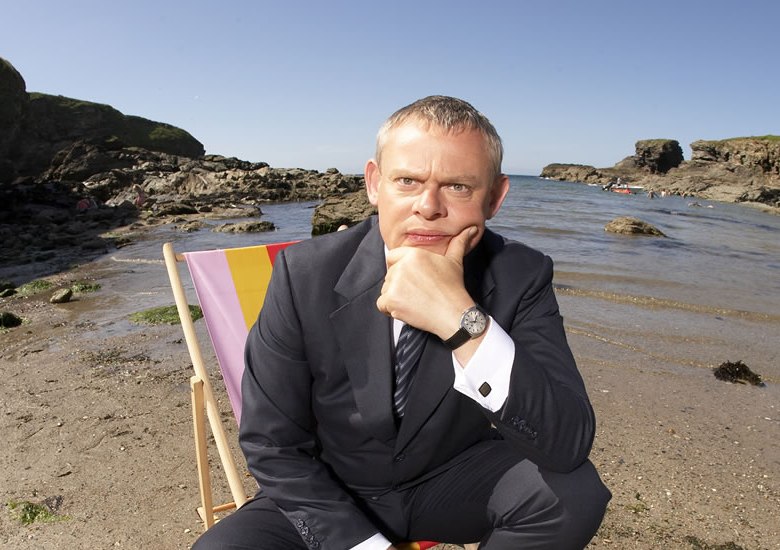 With filming underway in the Cornish town of Port Isaac, the fictional one of Portwenn is recreated and the role of the curmudgeonly and blood-phobic medic, Martin Ellingham, is reprised by Martin Clunes for Series 7 of Doc Martin.
All regular members of the cast return for the eight new episodes, including Caroline Catz as Martin's wife Louisa, Ian McNeice as local restaurateur Bert Large, Joe Absolom as Bert's son Al, John Marquez as policeman PC Joe Penhale, Jessica Ransom as the doc's receptionist Morwenna Newcross, and Dame Eileen Atkins as Martin's Aunt Ruth.
(Spoilers follow if you haven't seen Doc Martin: Series 6.)
In Series 6, Martin and Louisa finally tied the knot, but happily-ever-after was short-lived after Louisa scarpered to Spain with their son, James, to live with her mum while trying to work through marital problems following a life-threatening incident.
A grouch he may be, but still, Martin is devastated by their departure, and gets that he must make a few (or a lot) of changes if he wants his family back.
Said Clunes, "I'm thrilled to be back on the beautiful North Cornish coast to shoot series seven of Doc Martin. The Doc has some serious work to do if he is going to persuade Louisa to come back."
In other family matters, Aunt Ruth faces a medical emergency in the upcoming series, one that she tries to ignore but can't, because her nephew the doc won't let her.
Elsewhere in Portwenn, Bert dreams up another moneymaking scheme while trying to keep his struggling restaurant by the sea afloat, and Al, having renovated Ruth's farmhouse, is in business with her — a bed and breakfast to attract tourists for fishing holidays. Sounds fabulous, except the first guests are less than impressed.
And PC Penhale, not the quickest on the draw or uptake in law enforcement or life, has a disaster on his hands after familiarizing himself with a newly-issued Taser gun, while Morwenna wants a pay raise for trying to keep the doc in line.
Stay tuned for updates about Doc Martin's seventh series, including its premiere dates in the UK on ITV and the US on Acorn TV and public TV stations.
__________________
Add your comments on our Facebook, Google+, and Twitter pages.
Clunatics Rejoice! Doc Martin: Series 7 in Production