Ciao, bella! With the Thanksgiving holiday now over, get a taste of la cucina italiana as Steve Coogan and Rob Brydon take to the road once more in their second bromance foodie film, The Trip to Italy, which is headed to Netflix US this month.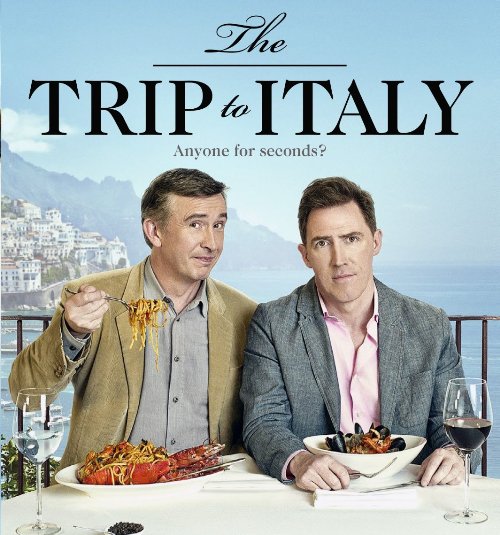 Pasta, seafood, and more are on the menu when Steve Coogan (Philomena) and Rob Brydon (Gavin & Stacey) take us along for a tasty ride in The Trip to Italy, the edited film version of the television series that aired on BBC Two in the spring of this year.
Directed by Michael Winterbottom (Tristram Shandy: A Cock and Bull Story), the follow-up to The Trip finds Coogan and Brydon (as fictionalized versions of themselves) doing another series of restaurant reviews for The Observer, this time of six fine-dining establishments in la bella Italia rather than Northern England.
So off they go, bantering, bickering, and singing along to Alannis Morrisette while driving across Italy to the six restaurants on their foodie tour. The locations are stunning: Camogli, located on the Portofino peninsula on the Italian Riviera; Pievescola in Tuscany; Rome; Ravello, situated above the Amalfi coast; and lastly the Sorrento coast, overlooking the island of Capri.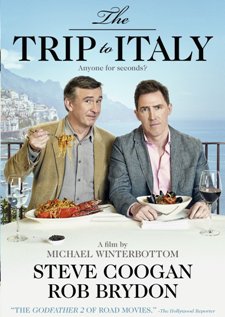 Interspersed between scenes at their tables are quick snippets of chefs at the actual restaurants preparing and plating what looks to be mouthwatering dishes. (According to the two foodies, they are delizioso.)
And at the end of each mean, Rob and Steve continue the quiz game they started on The Trip: "What is today's bill?" In Euros rather than pounds, of course.
Along with the restaurant reviews, the pair's road trip is also about following in the footsteps of the great Romantic poets, so visits to the homes of Lord Byron and Percy Shelley, the beach where Shelley's drowned body washed ashore, and the Keats-Shelley memorial are on the itinerary, too.
But the film isn't played just for laughs. There are touching moments between Steve and his son, and Rob and his wife (especially when he wants to tell her about his being cast in a Hollywood film, but she's too busy to stay on the phone). 🙁
As viewers of The Trip well know, no Coogan/Brydon series or film is complete without their hilarious improvisations. In The Trip to Italy, there are plenty, from a riff about whether their bromance is akin to The Persuaders (starring Roger Moore and Tony Curtis) or The Professionals (starring Martin Shaw and Lewis Collins), to impersonations of Michael Caine, Pierce Brosnan, Anthony Hopkins, and Roger Moore, amongst others.
It's funny. It's bittersweet. It's The Trip to Italy. And it begins streaming at Netflix US on Tuesday, 23 December 2014.
__________________
Add your comments on our Facebook, Google+, and Twitter pages.
The Trip to Italy: Steve Coogan, Rob Brydon Foodie Road Trip Film Coming to Netflix