Murders in a cold climate? Check. Investigations done by an intense detective? Check. Nordic noir drama? Nope. Scottish. But Shetland is as dark and gritty as any crime series out of Scandinavia, and just as compelling.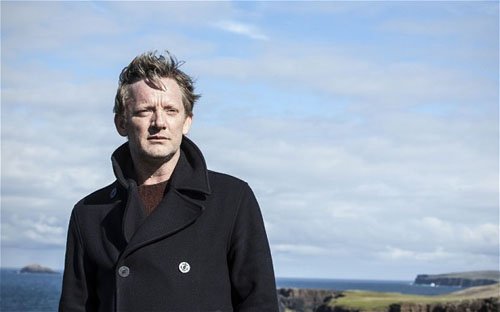 Glasgow has Taggart and The Field of Blood, Edinburgh has Case Histories and Rebus, the Highlands have Monarch of the Glen and Outlander, and the west coast of Scotland has Hamish Macbeth. Now the Shetland Isles have Shetland, the crime drama based on the "Shetland Island" novels by the acclaimed and award-winning author Ann Cleeves
("Vera Stanhope" mysteries). And public TV stations in the US have Shetland, too, as do viewers, when the first two series begin airing this month.
Shetland
stars Glaswegian hottie Douglas Henshall (Primeval, Collision, The Silence) as DI Jimmy Perez, a widowed, down-to-earth, highly-focused, and idealistic cop who believes his hometown is a safe haven. (No, Perez isn't a typical Scottish last name, but Jimmy does explain how it came to be his in one of the episodes.) His teen daughter Cassie (Erin Armstrong, Glasgow Girls) is actually his friend Duncan Hunter's (Edinburgh native Mark Bonnar, Line of Duty) biological daughter, which is why Jimmy moved back to Shetland: so she could be close to her dad now that her mom is gone.
But several murders on the remote and rather haunting Shetland Isles turn Perez's safe haven into a more sinister, but no less beautiful, place to live with Cassie and work with partner DC Alison "Tosh" MacIntosh (Alison O'Donnell, Holby City) and PC Sandy Wilson (Shetland native Steven Robertson, Being Human).
In the two-part pilot, "Red Bones," Sandy discovers the dead body of Mima Wilson, an elderly Shetlander who was fatally shot by the dig site on the grounds of her croft. Student archaeologists had recently dug up a skull there, and Mima was none too happy about it. While Jimmy and Tosh investigate Mima's murder, another body is found. Multiple suspects emerge, as does a secret going back to World War II. With the killer still at large and throngs of tourists about to descend on the Shetland Islands for the huge Up Helly Aa fire festival, Jimmy and Tosh must piece together the few clues they have to nab the murderer before there's another victim and all hell breaks loose.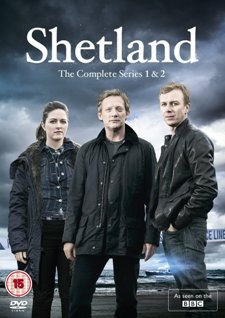 "Raven Black," the adaptation of the novel
that made Cleeves the first winner of the prestigious Duncan Lawrie Dagger Award from the Crime Writers Association, begins with a woman finding a teen girl dead on a secluded beach. The elderly local recluse, whose house overlooks the beach, had recently been in contact with the victim, and when a photo of him taken by her surfaces, he becomes the prime suspect, especially since he has no verifiable alibi. But then Perez and his team discover similarities between this case and another from two decades ago, and old wounds resurface for the families of the two dead girls.
Following the suspicious car accident that killed his old friend in "Dead Water," Perez learns from the forensic scientist (who has the hots for him) that it was no accident. The victim was a journalist who was trying to get the dirt on the new gas pipeline that many in the community opposed, including the local fish farmer. When a second murder occurs, evidence is found that links the first victim's ex-girlfriend to both crimes, but the plot thickens after another of the journalist's intimates exposes an affair and corporate misdeeds at the gas company.
And in "Blue Lightning," Perez heads to his childhood home of Fair Isle with Tosh after a scientist has been found murdered in her lab at the bird observatory. A storm leaves them stranded, and a fire leaves the main suspect in hospital. As the storm rages on, tempers begin to flare when Perez, Tosh, and the remaining members of the lab team are forced to stay put at the observatory, where Perez must continue the investigation with minimal help from the mainland. Lies, infidelities, and obsessions get revealed, alibis are iffy, and Perez suspects a cover-up.
As with other noir dramas, Shetland is tightly focused on the characters and their inner workings and relationships, such that their love, greed, family feuds, and more become the personal fuels for the crimes they commit. It's all quite juicy. And dark.
There are guest stars aplenty in Shetland, too, including Gemma Chan (Sherlock), Brian Cox (Ironclad), Anthony Flanagan (The Village), Julie Graham (The Bletchley Circle), David Hayman (Trial & Retribution), Anthony Howell (Foyle's War), John Lynch (The Fall), Alexander Morton (Monarch of the Glen), Michael Nardone (Line of Duty), Alex Norton (Taggart), Bill Paterson (Law & Order: UK), Sophie Rundle (Peaky Blinders), and Nina Sosanya (Last Tango in Halifax), amongst others.
Shetland: Series 1 & 2
debuts on public television stations in the US this month. Contact the station serving your area to find out if it is airing the series, and ask the viewer services department or check your local listings for broadcast dates and times.
Viewers in the Washington, DC area can catch the four stories' eight episodes on Thursday evenings at 10:30 PM ET, beginning 18 December 2014, on WETA UK.
__________________
Add your comments on our Facebook, Google+, and Twitter pages.
Shetland: Scottish Noir Murder Mystery Series Debuts in the US on Public TV Stations