The 2014 US midterm elections are next month, so it's apropos that the political drama, The Politician's Husband, makes its broadcast debut on local public TV stations around the same time that we head to the voting booth.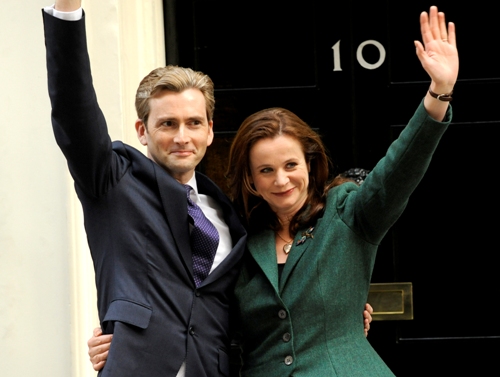 Written by BAFTA Award winner Paula Milne (The Politician's Wife), The Politician's Husband
is a gripping tale of relentless ambition, political machinations, and the unbridled quest for power, set in and around the world of Westminster.
The three-part miniseries stars David Tennant (Broadchurch, Doctor Who) as Aiden Hoynes, a senior cabinet minister of Parliament, and Emily Watson (The Book Thief, War Horse) as Freya, his wife and fellow politico.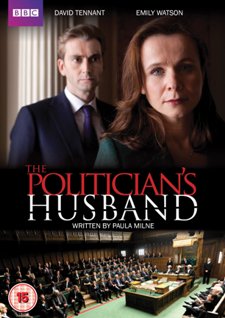 Aiden's fall from grace following his failed leadership bid and subsequent resignation results in a cabinet reshuffle and political payback in the form of Freya being offered a cabinet post.
As Freya rises to political prominence, Aiden wallows in self-pity and grows in paranoia and jealousy, yet still plots and schemes to use her growing power as his means of entry back into Parliament… with 10 Downing Street as his ultimate objective. Only she is no one's puppet and has ambitions of her own.
The strain on their marriage is palpable, and their relationship devolves to the ugly (and even violent) behind closed doors. In front of the cameras, though, the Hoynes are hunky dory, thank you, until a scandal erupts and makes headlines.
Perhaps all PR is good PR, as Number 10 becomes the Hoynes' new home, but dreams that come true aren't always the reality one had imagined.
The Politician's Husband costars Roger Allam (Endeavour) as Chief Whip Marcus Brock, Ed Stoppard (Upstairs Downstairs) as Aiden's (former) friend and political rival Bruce Babbish, and Jack Shepherd (Wycliffe) as Aiden's father Joe, amongst others.
The stations below are confirmed for airing The Politician's Husband
starting the 1st of November 2014. Check your local listings or contact the station serving your area for broadcast dates and times.
| STATE | CITY | STATION |
| --- | --- | --- |
| ARIZONA | Tucson | |
| CONNECTICUT | Fairfield, Hartford, New Haven, Norwich | |
| DISTRICT OF COLUMBIA | Washington, DC | |
| IDAHO | Boise, Coeur d'Alene, Moscow, Pocatello, Twin Falls | |
| ILLINOIS | Chicago | |
| IOWA | Council Bluffs, Davenport (Quad Cities), Des Moines, Fort Dodge, Iowa City, Mason City, Red Oak, Sioux City, Waterloo | |
| KENTUCKY | Ashland, Bowling Green, Concinnati/Covington, Elizabethtown, Hazard, Lexington, Louisville, Madisonville, Morehead, Murray, Owensboro, Owenton, Paducah, Pikeville, Somerset | |
| MARYLAND | Annapolis, Baltimore, Frederick, Hagerstown, Oakland, Salisbury | |
| MINNESOTA | Minneapolis, St. Paul | |
| MISSOURI | St. Louis | |
| MONTANA | Billings, Bozeman, Great Falls, Kalispell, Missoula | |
| NEW YORK | Binghamton | |
| NEW YORK | Rochester | |
| NEW YORK | Watertown, Norwood | |
| NORTH DAKOTA | Bismarck, Devil's Lake, Dickinson, Ellendale, Fargo, Minot, Valley City, Williston; Crookston MN | |
| OREGON | Bend, Corvallis, Eugene, La Grande, Portland | |
| SOUTH DAKOTA | Aberdeen, Eagle Butte, Lowry, Martin, Pierre, Rapid City, Sioux Falls, Vermillion | |
| TEXAS | Dallas | |
| WASHINGTON | Seattle | |
| WASHINGTON | Spokane | |
| WISCONSIN | Green Bay-Appleton, La Crosse-Eau Claire, Madison, Menomonie, Park Falls, Wausau-Rhinelander | |
| WISCONSIN | Milwaukee | |
__________________
Add your comments on our Facebook, Google+, and Twitter pages.
The Politician's Husband Heading to Local Public TV Stations