The Met's UCOS team will be heating up more cold cases when the BBC's long-running crime dramedy New Tricks returns for its eleventh series.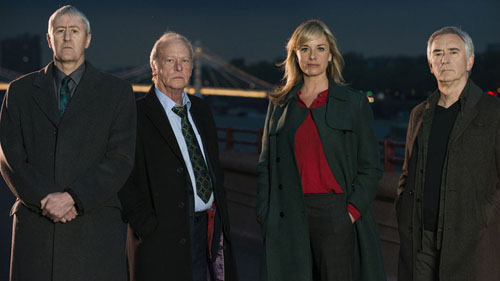 In the new series of New Tricks, personal matters continue to affect the professional for members of the Unsolved Crime and Open Case Squad (UCOS) when the action picks up six months after the conclusion of Series 10.
.
Series 11 opens with the now-divorced DCI Sasha Miller (Tamzin Outhwaite, Hotel Babylon, Eastenders) being forced to work with her ex-husband, Deputy Assistant Commissioner Ned Hancock (Barnaby Kay, Wallander), while he fills in for DAC Robert Strickland  (Anthony Calf, Upstairs Downstairs, Holby City).
Meanwhile, Gerry Standing (Dennis Waterman, Minder, The Sweeney) has two sticky situations to deal with upon his return to Bermondsey for his daughter Caitlin's (Amy Nuttall, Downton Abbey) wedding: The two have a row after he interrogates her betrothed about his credentials, and old friend Ralph Paxton (David Hayman, The Paradise), just out of prison, asks him to solve the murder of his youngest grandson.
For Steve McAndrew (Denis Lawson, Criminal Justice, Bleak House), dealing with his past isn't getting any easier. Son Stewie, who is still staying with him, gets into trouble, so Steve contacts his ex-wife (played by Julie Graham of The Bletchley Circle) — despite the bitterness between them — for help in getting things sorted with their son.
And Dan Griffin's (Nicholas Lyndhurst, Only Fools and Horses, Goodnight Sweetheart) personal life isn't a bed of roses either, starting with the fact that his daughter leaves for university, which leaves him feeling the effects of empty nest syndrome.
In addition to Nuttall, Hayman and Graham, additional guest stars in Series 11 include Niamh Cusack, Phil Davis, Louis Emerick, Tom Georgeson, Claire Goose, Tracy-Ann Oberman, Nicola Stephenson, and Sophie Thompson.
New Tricks: Series 11 debuts on Monday, 18 August 2014, at 9 PM BST on BBC One.
Viewers in the US will have to wait a bit for the new series to arrive on this side of the pond. In the meantime, stateside fans of the show can catch Series 10 episodes on local public television stations and via streaming at Amazon Instant Video
and Hulu Plus (subscription required).
__________________
Add your comments on our Facebook, Google+, and Twitter pages.
New Series of Brit Hit New Tricks Debuting Soon