Politics makes strange bedfellows. Politicos who actually share a bed, if not aspirations, make intrigue in the political thriller The Politician's Husband.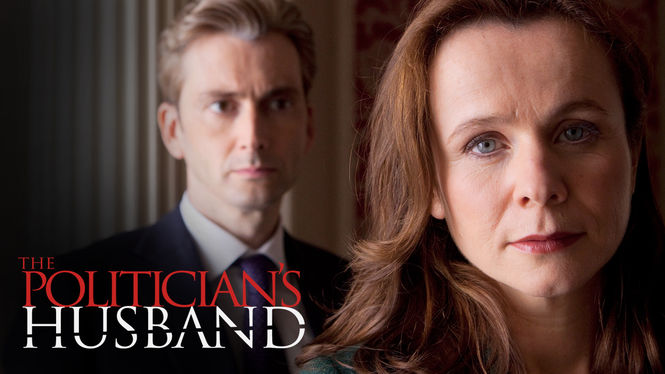 Back in 1995 the political drama The Politician's Wife
debuted on Channel 4 (and later on PBS in the US) to rave reviews and won both a BAFTA (Best Drama Serial) and International Emmy Award (Best Drama).
Fast forward to 2013 when its long-awaited follow-up, The Politician's Husband,
premiered on BBC Two and received high praise as well. And now, a little more than a year later, this tale of power, betrayal, revenge, and comeuppance set in the world of British politics has made its way to American telly, not on PBS but Netflix.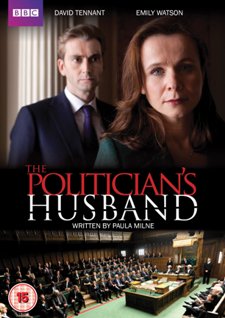 The story opens with the resignation of Aiden Hoynes (David Tennant, Broadchurch, Doctor Who), a senior cabinet minister whose protest of the Prime Minister's immigration policy was actually a leadership bid that failed, an event made worse by fellow minister and (now former) best friend Bruce Babbish (Ed Stoppard, Upstairs Downstairs, Zen) throwing him under the bus (figuratively, of course).
What Aiden realizes too late is that the equally ambitious Babbish, with help from Chief Whip Marcus Brock (Roger Allam, Endeavour, Parade's End), intends to launch his own leadership bid.
Aiden's resignation causes a reshuffle of the Cabinet, and guess who gets a call about taking one of the posts?  His wife Freya (Emily Watson, The Book Thief, War Horse), who had put her career in politics on hold to raise their two children. The offer is political payback for his actions and they both know it, but the cunning Aiden strategizes that she could use her seat in the Cabinet to undermine the Prime Minister and thus support him, her husband, in his quest for high office. And so she accepts it (and not unwillingly either).
Only things don't go as Aiden had planned.
His political career is in tatters, hers is on an upward trajectory, and their relationship is on the rocks. Mending their marriage is made all the more difficult by Aiden's paranoia and jealousy, the au pair's accusations, and Freya's rising political stardom. More of Aiden's machinations ensue and leave victims in their wake, including some that he hadn't foreseen.
The Politician's Husband
is an intense, disturbing watch, chilling in its characters becoming starved of humanity and devoid of redeeming qualities in their pursuit of power. It is also a riveting one, with superb performances by Tennant as the calculating cutthroat Aiden Hoynes and Watson as Freya, the literal and figurative woman on top. And almost no one plays smarmy bastard as well as Stoppard does.
(By the way, if you didn't see The Politician's Wife, which stars Juliet Stevenson and Trevor Eve as that story's wife and husband, it isn't streaming on Netflix but it is at Amazon Instant Video,
and it, too, is well worth a watch.)
__________________
The Politician's Husband: Political Thriller Premieres in the US