Um, wow. The legendary Charlotte Rampling is going to have a lead role in the second series of Broadchurch. Just wow.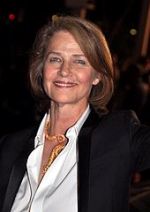 Charlotte Rampling, OBE (Swimming Pool, Restless, Dexter), recipient of France's Légion d'Honneur, and award-winning actress extraordinaire, will "play a pivotal role" in the new series of ITV's Broadchurch,
the award-winning murder mystery drama that captivated viewers on both sides of the pond last year.
Broadchurch creator/writer/executive producer Chris Chibnall pretty much said it all when he exclaimed, "Charlotte Rampling!"
However, he did add: "We've been keeping this secret for months, it's been agony! We have another big story to tell this year, and that meant finding exceptional actors for new roles. There's none more exceptional than Charlotte: to be writing for her is a dream come true. As you can imagine, Charlotte's character is an integral part of our new story — but that's where we're drawing a veil, for now…"
No mystery there. ITV, along with Kudos and Imaginary Friends, the production companies behind Broadchurch, have been holding details about the new series close to the vest, so we can only speculate as to Rampling's character and how she will impact the drama and members of the small seaside community.
But more news is on the way.
Said Steve November, ITV Director of Drama, "We're delighted Charlotte is joining the Broadchurch family. She's the first of some exciting additions to the ensemble for the new series."
Stay tuned…
—————————
International Film and TV Star Charlotte Rampling Joins Broadchurch Cast