For hours of aristocratic fun and hijinks, head to Acorn TV when the subscription video-on-demand service begins its exclusive screening of hit Brit comedy Blandings: Series 2 in the US next week. But wait, there's more! Jeeves & Wooster is coming to Acorn TV, too!

Lord Grantham has man's best friend Isis and acres of family drama at Downton Abbey, but for zany misadventures, look no further than to Lord Emsworth, keeper of Blandings Castle and his prized pig Empress.
Based on the Blandings Castle
stories by renowned English humorist P.G. Wodehouse, the second series of Blandings
 finds the much put-upon Clarence Threepwood, the 9th Earl of Emsworth (Timothy Spall, The Syndicate, Harry Potter), once again wanting nothing more than a bit of peace and the fattest pig. But life on the estate has other things in store, not the least of which is the wrath of Connie (Jennifer Saunders, Absolutely Fabulous, Clatterford), Clarence's sister and fellow Blandings resident, whose rants have him hiding in the cupboard on a daily basis.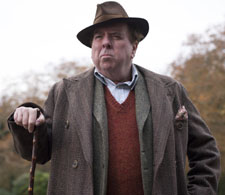 Making matters worse for Clarence are others of his relations and guests, such as indomitable elder sister Charlotte (Celia Imrie, Kingdom), incorrigible younger brother Gally (Julian Rhind-Tutt, The Hour), and the irascible Duke of Dunstable (Harry Enfield, Skins).
Charlotte is intent on bringing order to Blandings and decides to make her visit a permanent one, Gally threatens to ruin the family's reputation by publishing a tell-all memoir, and the Duke of Dunstable wields a poker and eggs to protest whistling, Scotsmen, and daughter Linda's (Ruby Bentall, Lark Rise to Candleford) romance with Pongo (Mathew Baynton, The Wrong Mans). And that's just for starters.
Jack Farthing (Agatha Christie's Poirot) reprises his role as the feckless Freddie, Clarence's son, as does Robert Bathurst (Downton Abbey) in his recurring role as Clarence's fattest-pig-owner rival, Sir Gregory Parsloe-Parsloe. Joining the Series 2 cast is comedian Tim Vine (Not Going Out), who replaced Mark Williams (Harry Potter) as Blandings butler Beach.
Described as "a lot of fun" by The Independent, Blandings: Series 2
debuts on Monday, 5 May 2014, at Acorn TV, where you can also catch up on the six Series 1
episodes.
For more rollicking good fun, there's Jeeves & Wooster,
the award-winning comedy-drama series adapted from P.G. Wodehouse's Jeeves stories
starring Hugh Laurie as the always-in-a-spot-of-bother minor aristocrat Bertie Wooster and Stephen Fry as his here-he-comes-to-save-the-day valet Jeeves.
A likable chap with more money than sense, Bertie is perpetually avoiding Aunt Agatha's matchmaking while doing some matchmaking of his own for the likes of Gussie Fink-Nottle, Bingo Little, and Tuppy Glossop. But romantic entanglements aren't the only things that Jeeves, he of the hangover tonic and other spot-on remedies, ends up sorting for Wooster.
Jeeves & Wooster
is one of my all-time favorite series, and I'm thrilled that Acorn TV will also begin screening it commercial-free starting the 5th of May.
—————————
Blandings: Series 2 Exclusive Plus More PG Wodehouse on Acorn TV