With a few more episodes to go until the finale of Downton Abbey: Season 4 airs in the US, fans are already wishing that Season 5 episodes would start immediately thereafter. Well, they won't, but filming of the fifth season will.
So said series creator and writer Julian Fellowes back in November, when he shared with Charlie Rose that Series 5 "starts filming in February." Tomorrow, the 10th of February, to be precise.
After it was announced that the fifth series had been commissioned, speculation began as to whether there would be a sixth.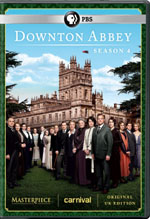 Fellowes had said in a number of interviews that the fifth could be the final one. With his commitment to the new NBC period drama, The Gilded Age, it was sounding more like the end of Downton would come sooner instead of later, until he clarified that the new show would have to wait until his his Emmy® and Golden Globe® award-winning drama concluded.
More recently, Gareth Neame, Executive Producer of Downton Abbey and Managing Director of Carnival Films, stated, "I can confirm that there are no plans to end the show after the fifth series. ITV commissions each series on a year-by-year basis." (Digital Spy)
(Yes, ITV does so with most shows, but not all. To wit: the hit detective drama Vera, whose fourth series was commissioned months before the third one even aired.)
Anyhoo, Downton's fifth series will likely premiere in the UK in late September of this year, assuming ITV's schedule for it is similar to that of the first four. As for when it will debut in the US, there will be no narrowing of the gap between the UK and US air dates, no matter how much stateside Downtonites might want it.
Said Paula Kerger, President and CEO of PBS, at the Television Critics Association's semi-annual Press Tour, "It's become a bit of tradition after the holidays to come together to watch Downton… It would be very hard for me to imagine putting it anywhere else than where it has seemed to have found a very strong audience."
Net net: Look for Series 5 of Downton to air in the US on PBS starting January 2015, a couple of months after it will have completed its run on ITV in the UK.
But let's not let that spoil our fun with the current Season 4.
The sixth episode debuts on PBS tomorrow night at 9 PM ET (check your local listings), with just two more new episodes after it.
The Downton DTs will hit after the Season 4 finale on the 23rd of February.
—————————
In Brit TV News: Downton Abbey: Series 5 and 6