British TV-focused Acorn TV had a banner year in 2013, with subscriber and website visitation figures that broke records for the subscription video-on-demand service.
The universe of British TV fans in North America could be expanding. If so, then it is likely that Acorn TV, RLJ Entertainment's first proprietary digital channel, is playing no small part in causing it.
Viewers with a penchant for watching British television programs on this side of the pond flocked to Acorn TV and signed up as subscribers in 2013, tripling the number of the SVoD service's subscriber base.
And they put their subscriptions to good use, too, making nearly four million visits to "the best Brit TV" (Time magazine) website, which increased Acorn TV's weekly viewership figures by 475% in the last six months alone. Subscribers accessed Acorn TV on home computers and portable Flash-enabled digital devices, and through its channels online and on the #1 streaming media player, Roku.
Said Miguel Penella, Chief Executive Officer of RLJ Entertainment, Inc., "RLJ Entertainment has worked aggressively the last 2 years to create and program a subscription service that can fill the void for the millions of Americans craving high quality British content. With tripling our subscriber base and reaching record-setting views, 2013 was a breakthrough year for Acorn TV. With even more exclusive content and platforms, 2014 will be another groundbreaking year for Acorn TV."

Those exclusives include the hit dramedy series Doc Martin,
which made its Series 6 premiere in North America on Acorn TV last Fall and set a new record of more than a quarter million views during its initial eight-week debut. In both the UK and US, the series is one of the highest-rated dramas on ITV and public television stations, respectively.
—————————
Doc Martin: Series 6 Coming to These Local PBS Stations
—————————
More Brit TV fan favorites were amongst the Acorn TV 2013 exclusive premieres, such as the hit crime drama Vera,
starring two-time Oscar® nominee Brenda Blethyn; the ever-popular mystery series Midsomer Murders;
and the universally-acclaimed detective series Foyle's War,
of which all rights are owned by RLJ Entertainment and whose upcoming series is being co-produced by RLJ Entertainment's Acorn Productions.
—————————
Foyle's War: New Series Filming Now!
—————————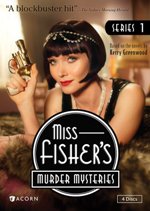 Australian programs were also a hit with Acorn TV subscribers, including the period mystery series Miss Fisher's Murder Mysteries
and the noir drama Jack Irish,
starring Guy Pearce, both of which premiered last year. The second Miss Fisher series debuted in the US and Canada earlier this month, and another Jack Irish movie is headed to Acorn TV next month.
Acorn TV will continue with its roster of exclusive British program premieres and streaming availability in 2014, including new episodes of the 1960s-set mystery series George Gently
starring Martin Shaw, and the new sitcom You, Me & Them
starring Anthony Head and Lindsay Duncan.
Then in Summer 2014, Acorn TV will feature the final series of the long-running hit mystery series Agatha Christie's Poirot,
which concludes David Suchet's portrayal of the iconic Belgian sleuth in all 70 adaptations.
Acorn TV streams more than 80 mysteries, period dramas, documentaries and comedies, with at least six series added each month and more than half of the programs in its online library streaming here exclusively. New subscribers get a 30-day free trial, after which the subscription costs $4.99/month or $49.99/year.
—————————
Acorn TV Scores Big with British TV Fans