The comings and goings of cast members to and from hit British TV shows keeps a-rollin'…

With all of the carnage we saw in the third series of Game of Thrones,
it's no wonder that new cast members have been added.
A couple of weeks ago, it was announced that Mark Gatiss had joined the cast for the fourth season. Now there's word that Indira Varma is following fellow Rome cast mate Ciarán Hinds (Mance Rayder in GoT Season 3) to the phenom fantasy series, She will play Ellaria Sand, the lover of the Red Viper, Prince Oberyn Martell (Pedro Pascal), another new character in the upcoming season, which will debut in 2014.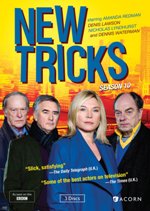 In a world without dragons, the tenth series of New Tricks
premiered earlier this week on BBC One, and is slated to make its way stateside next year. That's the good news. The bad news is, fans of the hit crime drama on both sides of the pond will be sad to know that both Amanda Redman and Alun Armstrong will be leaving the show during this season.
Their departures follow that of James Bolam, who left the show after eight seasons. His character, ex-DCS Jack Halford, quit the Unsolved Crime and Open Case Squad (UCOS) in the opener of Series 9,
and was subsequently replaced by ex-DI Steve McAndrew, played by Denis Lawson (Criminal Justice).
UCOS isn't UCOS with just McAndrew and ex-DS Gerry Standing (played by Dennis Waterman), so former diplomatic protection officer Dan Griffin (Nicholas Lyndhurst, Only Fools and Horses) will join the squad in place of Armstrong's character, ex-DI Brian Lane. And for the new head of UCOS, Tamzin Outhwaite (Hotel Babylon) is set to take over for Redman, who's played DS Sandra Pullman since the series premiered in 2003.
Speaking of premieres, Ripper Street's second season
will debut later this year. Filming has started in Dublin, and there will be some new faces in and around H Division.
Joining Matthew MacFadyen (Inspector Edmund Reid), Jerome Flynn (Detective Sergeant Bennet Drake), and Adam Rothenberg (Captain Homer Jackson) are Damien Molony (Being Human), who plays Constable Albert Flight; Joseph Mawle (Game of Thrones) as the corrupt Inspector Jedidiah Shine; and newcomer Leanne Best, who will appear as Jane Cobden, the first woman elected to the London County Council.
David Costabile (The Wire) will guest star in the two-part season finale as Homer's older brother Daniel Judge. Additional guest stars include Gina Bellman (Coupling), Paul Kaye (Game of Thrones), Neve McIntosh (Doctor Who), and James Wilby (Maurice).
Ripper Street's second season
premieres on Sunday, 1 December at 10PM Eastern on BBC America.
—————————
New Cast Members for Game of Thrones, New Tricks & Ripper Street